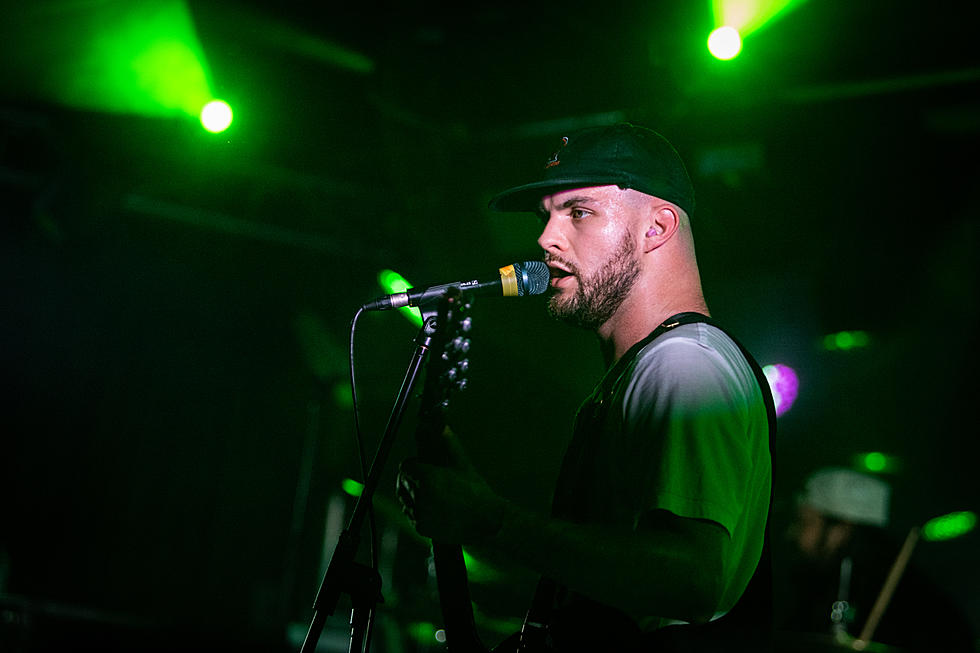 Knocked Loose's Isaac Hale – Coachella + Bonnaroo Response Shows How Open-Minded People Are to New Music Right Now
Aldara Zarraoa/Redferns, Getty Images
Knocked Loose guitarist Isaac Hale was the guest on Full Metal Jackie's weekend radio show. While Knocked Loose have been a band on the rise for some time now, it feels like the band is having a moment in 2023 with buzz-generating appearances on the more mainstream Coachella and Bonnaroo Festivals.
Jackie spoke with Isaac about these special shows and the response that they've gotten out of these shows, what it means for the health of hardcore music at this moment in time and why his confidence in what Knocked Loose is doing right now is at an all-time high.
Hale also gives us a trio of hardcore bands that should be on our radar as the next big thing in his his genre, breaks down some of his favorite breakdowns and confesses his fandom of tourmates Motionless in White. Check out the chat in full below.
We've got Isaac Hale, guitarist for Knocked Loose, here on the show with us this week. You're out here promoting the killer new "Upon Loss" singles, "Deep in the Willow" and "Everything Is Quiet Now." And Isaac, this seems like a great time to be in Knocked Loose. You recently commented on Twitter that you've never felt more confident in the band. What about the making these two new songs has backed up your thoughts on where the band is with their music right now?
Well, I think what's really, really cool is that a lot of what came from that tweet specifically is a lot of things that have been culminating as Knocked Loose has been in the writing stage, in the creative stage for quite a long time now. It's been years of jamming and whenever anyone asks us if we've been writing we're just kind of like, "Yeah, we're always writing," because we are.
But those two singles specifically came together pretty recently and the fact that those two were written and came together so smoothly, so quickly and then culminated with the Coachella performance, the Bonnaroo performance, all these big festivals, it just feels like a very, very good and productive time for the band. I think those singles were meant as a reminder that we're still here and just kind of marking where the band is at and teasing what's to come, you know? And I think that all of our recent moves have been the biggest moves this band has made, and we hope to just continue that as we keep going forward.
Knocked Loose, "Deep in the Willow / Everything Is Quiet Now"
Let's be honest, it feels like your band is having a moment right now from the killer pits to Coachella to the unreal and unbelievably loud response at Bonnaroo. It feels like you're taking over the world one festival appearance at a time. What has it meant to you to see the response your band is getting on what are primarily more mainstream festivals?
It feels amazing. I'm not gonna say that we didn't expect it. I wasn't going to go as far as to say that we just straight up weren't expecting any of them to be good, but we really didn't. We didn't expect the mainstream crowd to take to us so well, we really didn't. All of this kind of attention that we've gotten from these mainstream festivals and more the mainstream crowd has taken us by surprise. And this is coming from a band that's been doing cross genre stuff for a really, really long time.
I think that it's a really cool time in music where metal, alternative music, hardcore and punk rock are being more accepted by the mainstream community. And that comes with its ups and downs. But I think what's shocking about it is that a lot of these big festivals like Coachella and Bonnaroo, a lot of these shows have been crazier than even some of our headline shows.
READ MORE: Knocked Loose Turned Coachella Into a Hardcore Show + Billie Eilish Watched
There's a bunch of new, really young excited people that are just ready to go off for heavy music, and it really shows. It's a marker of where music is at right now and how open-minded people are to new music. I'm glad that Knocked Loose can be a part of that and we're gonna take advantage of it. I'm glad that we've been placed where with all these more mainstream people, where we're able to shock and awe people. We're able to surprise them and we're able to bring new emotions to kids that maybe haven't seen our type of music before. I'm very humbled by it, you know, it's very, very humbling and we feel very appreciative to be given these opportunities.
Knocked Loose at 2023 Bonnaroo
We were just talking about the response at those festivals that you guys have been playing. While it's great that you're being introduced to new audiences and representing your genre, there will always be fans that want to make sure you're staying true to the scene. What have you learned coming up through the ranks, now that you're in a position to showcase and be a representative for your genre of music? Are there newer bands you think we should be looking out for?
Oh yeah, there absolutely are. Knocked Loose has always been a band rooted in hardcore, that is just where our roots are. That's what we've played our entire lives and there's a lot of genre bullshit that you could throw at Knocked Loose. We've always stayed true to that and the bands that we take on tour and the bands that we promote, we're very much in touch with the hardcore scene in the U.S. and in other places. That's something that's always been super important to us. There's absolutely bands that everyone should be checking out right now. A bunch of new hardcore bands are playing some of the biggest shows that they ever have. Hardcore seems to be bigger than it's ever been.
There's bands like Pain of Truth and Drain and Tsunami that are just playing massive shows across the U.S., Europe, all over the world. So many people, sometimes thousands of people, are going out to see them so pay attention because there's amazing bands just popping up all the time. I just shouted out three and I could shout out a million more, but go to those shows and check out the bands that those people are taking on tour. Check out the bands that we're promoting on social media.
It's a beautiful time to be into hardcore right now and it's bigger than ever. Just pay attention to what's going on around you and go to these shows and check out the openers, check out the locals and try to go to shows in your area. I feel very, very blessed to be growing up in a time when hardcore is thriving.
Drain, "Good Good Things"
Isaac, Brian Garris spoke about how the band has been inspired to see how much art they could incorporate moving forward, and that can be seen in the video that accompanies your new songs. Has that changed in any way how you approach the music? Like, are you now thinking about how this represents visually or through any other artistic ideas as you're putting the music together?
I think it's always been connected. I think that there was probably a time in the beginning of the band's career where we would think about music strictly first and think about art later. But I think we try to think about things more holistically now. When writing music, we're always thinking about how would this sound on a record? How would this sound sequenced? How would the music video look for this? How would art look for this song? How does it make us feel?
Those feelings are all created and curated by us so we definitely try very hard to curate our own vibe and our own feeling when it comes down to art and music videos and everything, and the band is more involved in that than we ever have been before. It's very much been Brian kind of spearheading it. We have our buddy Ridge who helps us with a bunch of designs and we have a very close knit team of people that help kind of create this entire vibe for the band and it's always been very close to the chest. We take it very seriously. So yeah, I'd say that music and art are always connected and in Knocked Loose. They'll always be connected.
Isaac, one of the great things about your style of music is the killer breakdowns, and you certainly have some standouts, but I want to pick your brain to see what are some of your favorite breakdowns, not only of your own, but those of some of your peers.
I actually made a list of some of my favorite breakdowns of all time not too long ago. And I'd say that just a couple off the top of my head that I've taken inspiration from the song "Love" by Gojira, the song "Future Breed Machine" by Meshuggah, the song "Propaganda" by Sepultura, the song "Broken Mouth" by Martyr AD. "Graves of Our Fathers" by Cryptospy, Candiria "Faction" and Hatebreed's "Perseverance" are some of my favorites of all time.
As for some in the Knocked Loose set that I love to play, honestly, the ones that are in our new songs "Deep in the Willow" and anything on the "Upon Loss" singles is pretty much my favorite stuff that we've ever written breakdown-wise. In the future, expect even crazier ones because they're just the most fun to play. It's the most fun thing to write. It always has been. So just always expect for us to bring those en masse.
Before we let you go, I wanted to mention you're set up with an amazing bill while playing shows alongside Motionless In White. I'm not sure how much of a chance you get to check out other bands while you're in touring or recording mode, but I wanted to get your thoughts on playing with Motionless In White and if you've dug into their Scoring the End of the World record.
You know, what's very funny is all of Knocked Loose are actually huge Motionless In White fans and have been since the inception of Motionless In White way back in the day. You know, we followed them from their early demos and EPs all the way through to the new record, and they're one of the few bands that I think have creatively just nailed pretty much every sound that they want to go for. They're definitely an inspiration to us, and we couldn't be happier to be touring with them. I'm honestly just ecstatic that I get to watch them every single night because I'm a huge fan of the band and I get to enjoy it with all my friends.
Isaac, really great to catch up and good luck with the rest of 2023.
Thank you so much, I appreciate it.
Thanks to Knocked Loose's Isaac Hale. You can pick up the "Upon Loss" singles "Deep in the Willow" and "Everything Is Quiet Now" through iTunes or Spotify. Stay up to date on the band's activities through their website, Facebook, X, Instagram and Spotify platforms.  Find out where you can hear Full Metal Jackie's weekend radio show here.
The Ugliest + Most Beautiful Breakdowns in Metal
Breaking down the most sublime and sinister segues in metal!
The Most Shocking Rock + Metal Moments of the 1970s
These are the most shocking moments in rock and metal during the 1970s.