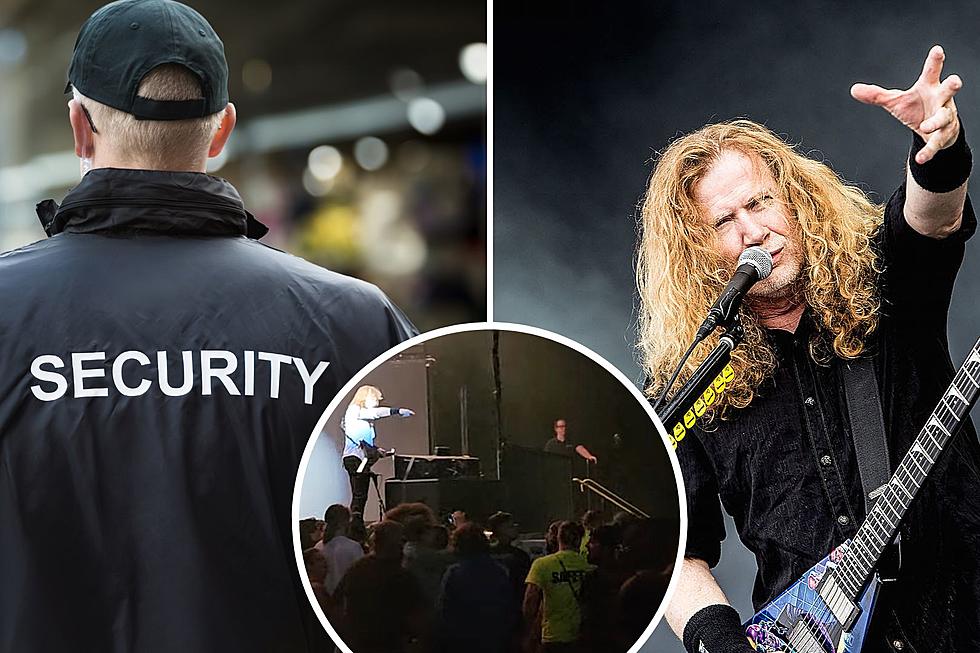 Megadeth's Dave Mustaine Ejects Security Members for 'Bullying' Fan at Concert
AndreyPopov, Getty Images / NurPhoto via Getty Images / NurPhoto via Getty Images
Megadeth's Wednesday performance (Sept. 27) in Bloomington, Illinois had an unexpected disruption when Dave Mustaine stopped performing "Symphony of Destruction" mid-song to call out some unruly action between security and an audience member off to the side of the stage. As it turns out, it was the security that drew the ire of the Megadeth frontman, who called them out for roughing up the audience member and asked for their removal from the show.
"Hey, hey, hey, stop, stop, stop. Dudes, don't be fucking hitting people. That's totally uncool," said Mustaine as he stopped down the song to address what was going on.
When the aggression continued, Mustaine was more direct in his tone, yelling, "Hey, fucking stop hitting that guy," as he ventured over to the side of the stage, pointing to where the action was occurring.
As security returned to the front of the stage, Mustaine could be seen shaking his finger twice and then leaning over the front of the stage to individually, off mic, speak to members of the security staff.
Returning to the front of the stage, Mustaine explained, "Ok, I'm not going to play anymore until those guys are escorted out of the building, so just hold on a second."
"That was so fucking unnecessary. That was so fucking unnecessary, you guys," he then scolded security. "You're supposed to make it ... what's on the back of your shirt? Safety? It should say 'No Fucking Safety' cause you guys are punks and you shouldn't have fucking hit that guy. Four of you on one guy, what a bunch of pussies."
He then continued, "Get em out of here or I'm leaving. I don't want to hear that they're in the back. I want them out of here."
After meeting side stage with a police official, Mustaine ventured backstage for a towel to wipe down before returning to the stage and telling the crowd, "Those motherfuckers wrecked my song."
The singer thanked police officials for removing the offending security team members, told the audience not to hold it against all the remaining team in the audience, and then noted that it was the grouping of these individual security staffers squaring off on the one audience member that set him off. "Sorry, that stuff just makes me so mad. I hate bullies."
READ MORE: When Musicians Fight Security Guards
The show, at Bloomington's Grossinger Motors Arena, fittingly wrapped up as Mustaine noted with a performance of "Holy Wars."
The Megadeth tour continues this weekend with shows in Fargo, North Dakota and Prior Lake, Minnesota. See all their scheduled shows here.
Megadeth's Dave Mustaine Stops Show to Call Out Security for Bullying Fan
The Best Album by 30 Legendary Metal Bands
Gallery Credit: Joe DiVita