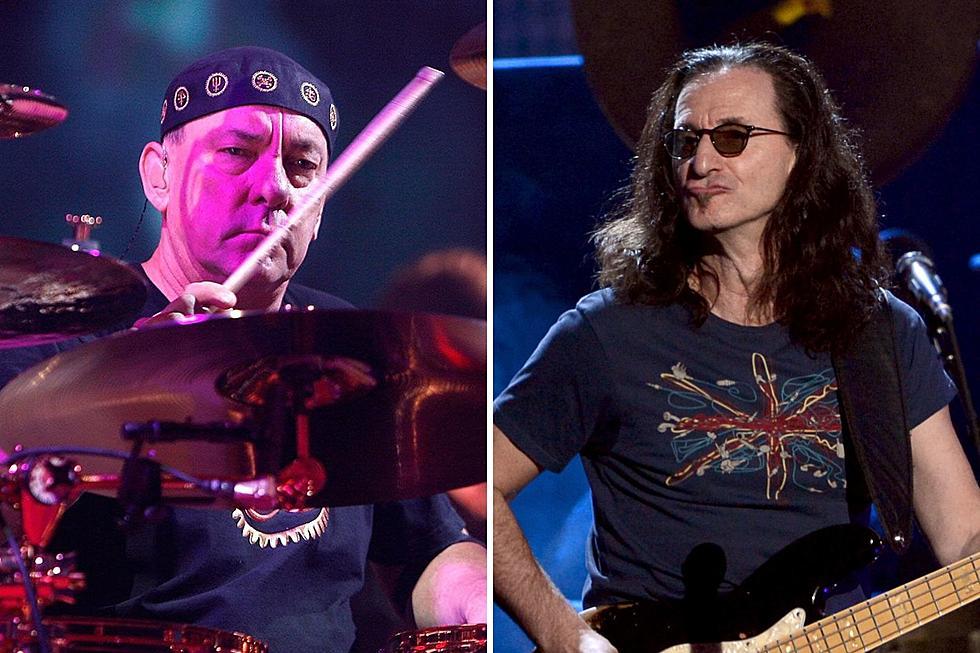 Rush's Geddy Lee Reflects on the Last Time He Saw Neil Peart
Mike Lawrie, Getty Images / Kevin Winter, Getty Images
During the Q&A portion of the opening night of Geddy Lee's spoken word tour in support of his new memoir My Effin' Life, the Rush legend reflected on the last time he saw drummer Neil Peart and the touching conversation the pair shared.
Peart died at the age of 67 on Jan. 7, 2020 after being diagnosed with brain cancer three-and-a-half years earlier, having kept his medical issues private the entire time. As a member of the band from 1974 through their 2018 dissolution, Peart's lyrical and drum contributions are among the most highly regarded in progressive rock/metal.
As Lee reveals, Peart took stock of the Rush catalog near the end of his life, leaving his bandmate with some important, heartfelt words about the music they made together.
Geddy Lee on Seeing Neil Peart for the Last Time
"[During the final months of his life, Neil] would listen to a different Rush album and he would be analyzing it and listening to something he hadn't heard sometimes since we'd made it," Lee says onstage (transcribed by Blabbermouth), sitting alongside special guest interviewer/actor Paul Rudd (I Love You Man, Anchorman, Clueless).
Lee continues, "And by the time that he sadly passed, he had listened to pretty much all the work we had done as a band. And the last time I saw him... [choking up] he wanted to tell me how proud he was of the music we have done together… Some of this stuff is hard to talk about."
"It just blew me away that, in that moment, we were sitting on his balcony at his house. And whenever we left him towards the end, we never knew if we'd see him again or not. And so we were sitting on his balcony and he was having a smoke, because he loved to have a smoke, like clockwork. And we were talking about what a great moment it was that he was here in this place and we had just seen some parakeets flying into the trees and we both were bird nerds so we could talk about that," the Rush bassist/singer/keyboardist adds, "But he went on to talk about these songs and what they meant to him and he thought it was very important for me to know that, that our life as a rhythm section together was important to him."
"So I thought that was beautiful," Lee concludes, with 18 studio albums of memories and creative chemistry he will always be able to fondly look back on.
READ MORE: Geddy Lee Says He and Alex Lifeson Could Perform as Rush Again
Where to Buy Geddy Lee's Memoir My Effin' Life
My Effin' Life, Geddy Lee's new memoir, was released on Nov. 14 and touches on his early childhood, dropping out of high school to pursue music as well as his esteemed career as the bassist. singer and keyboardist in one of the world's most successful prog bands, Rush.
Get your copy here.
Geddy Lee Spoken Word Tour Dates
Nov. 15 - Philadelphia, Pa. @ The Met Philadelphia
Nov. 17 - National Harbor, Md. @ The Theater at MGM National Harbor
Nov. 18 - Boston, Mass. @ Orpheum Theatre presented by Citizens
Nov. 19 - Cleveland, Ohio @ State Theatre at Playhouse Square
Nov. 21 - Montréal, Quebec @ Théâtre Maisonneuve
Nov. 23 - Vancouver, British Columbia @ The Centre in Vancouver
Nov. 24 - Seattle, Wash. @ Moore Theatre
Nov. 26 - San Francisco, Calif. @ The Masonic
Nov. 28 - Los Angeles, Calif. @ Orpheum Theatre
Nov. 30 - Denver, Colo. @ Paramount Theatre
Dec. 03 - Chicago, Ill. @ Auditorium Theatre
Dec. 04 - Detroit, Mich. @ The Fillmore Detroit
Dec. 07 - Toronto, Ontario @ Massey Hall
Top 66 Hard Rock + Metal Drummers of All Time
These are the best hard rock + metal drummers.
Gallery Credit: Loudwire Staff