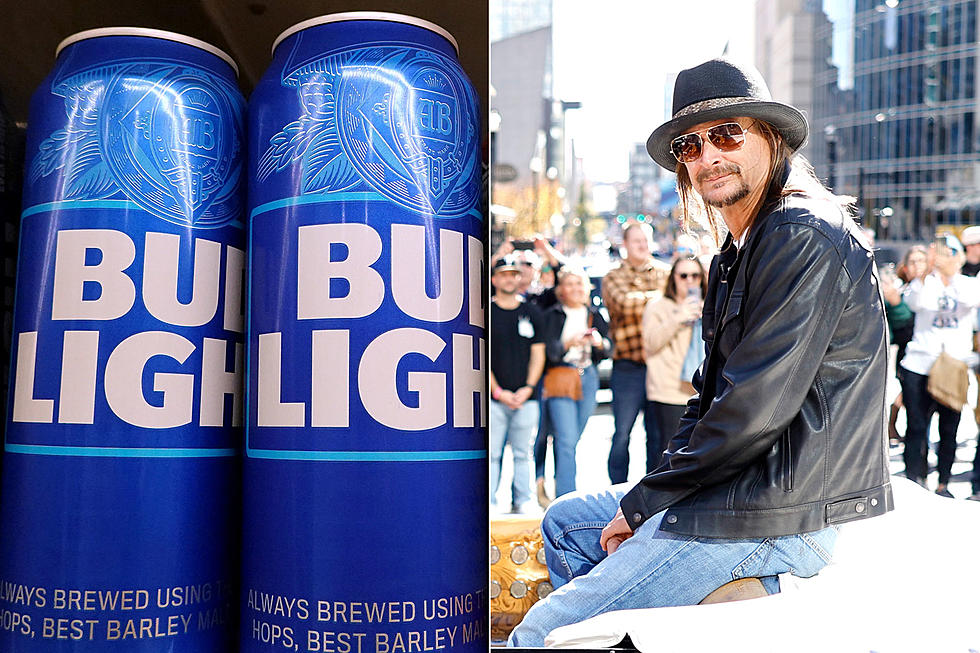 Kid Rock Says He Never Asked for Bud Light Boycott, Clarifies Stance
Joe Raedle / Jason Kempin, Getty Images
Earlier this year, Kid Rock made headlines opening fire with an assault weapon on several cases of Bud Light beer in response to the company sending cases of beer sporting the face of trans activist Dylan Mulvaney to the social media influencer who hyped the beer while celebrating her "365 days of womanhood."
Afterward, with other celebs also voicing their displeasure, a boycott against Anheuser-Busch and primarily Bud Light started to take place. But, during a recent appearance on Sean Hannity's Fox News program, Rock says he never called for the beer company to be canceled or boycotted.
As discussion turned to the Bud Light incident, Rock clarified for Hannity that he never called for the actions that eventually took place against the company. In the midst of the interview, Rock shared that he had actually crossed paths with the CEO of Anheuser-Busch at a UFC event where he was also hanging out with Donald Trump. In the Hannity interview, he then relayed some of that conversation.
"If someone wants to be trans, I didn't rip that kid. I said 'F you guys.' I didn't say 'boycott' or 'cancel,' I said 'F you,'" Rock shares that he explained to Anheuser-Busch CEO Brendan Ball Whitworth, then adding, "What are you doing injecting yourself into this conversation, these polarizing social issues? You could be doing so much more positive stuff just making us laugh and drink beer."
"We actually had a great conversation," said Rock. "I told him that night, 'You signaled to a lot of people like myself, put the trans thing to the side for a minute, but by sending that can to the trans kid, you kind of signaled to us that you support that lifestyle, and more importantly, men being in women's sports or in my granddaughter's locker room. Most of us draw a hard line right there.'"
Within the Hannity interview, Rock then went on to clarify his stance when it comes to the LGBTQ+ community. "I said, 'If someone wants to dress up like a girl and want to be transgender or whatever, a lot of people fought and died for that right. Go for it. We can co-exist."
He then added, "Let me say this to the trans and gay community right now. Be yourself. If you're cool with me, I'm cool with you. That's how most people are. But as soon as you bring our kids into this, that's when you're going to bring hatred into it. Keep our freaking kids out of it, that's the bottom line."
What Kid Rock Initially Did and What Followed
In April, Rock filmed a short video for his social media in which he turned to the camera and noted, "Grandpa's feeling a little frisky today." He then added, "Let me say something to you and be as clear and concise as possible," before he reached for his automatic weapon firing rounds into several cases of Bud Light beer that were sitting upon a small table. Afterward, he turned back to the camera with middle finger in the air stating, "Fuck Bud Light! Fuck Anheuser Busch! Have a terrific day."
In the month following some of the public outcry, Barron's reported that Bud Light's sales dropped 26 percent. Earlier this week, Anheuser-Busch InBev's U.S. chief marketing officer Benoit Garbe announced that he'd be resigning at the end of the year as the company's sales continued to slump after the Mulvaney endorsement became a big talking point.
READ MORE: Father of Parkland Shooting Victim Responds to Kid Rock Shooting Cases of Bud Light
As for Rock, there was plenty of interest on whether or not his social media post meant he was backing off his support of the company. In July, it was confirmed that his Nashville bar Hwas still selling Bud Light and in August TMZ captured footage of Rock drinking a Bud Light while at the Skydeck in Nashville.
Kid Rock's Current Stance on Bud Light + Anheuser Busch
After the flap earlier this year, Kid Rock is now willing to accept Bud Light as a sponsor. Telling Hannity that one of the reasons he did so was his concern for the livelihoods of the workers employed by Anheuser Busch, he explained, "I know people that work for there and it's not so cool to be wearing around the blue shirt and going places."
"I can let the thing go," says Rock. "As a conservative and a patriot, I don't want to be the party of cancel culture and boycotts. It ultimately hurt working class people who had no dog, especially in this fight." Rock says that while he's now lending his support and forgiveness, he also wants them to show him something as a consumer.
Kid Rock Speaks With Sean Hannity on Fox News
The Most Controversial Singers in Rock + Metal
These are the most controversial singers in rock and metal.
Gallery Credit: Lauryn Schaffner