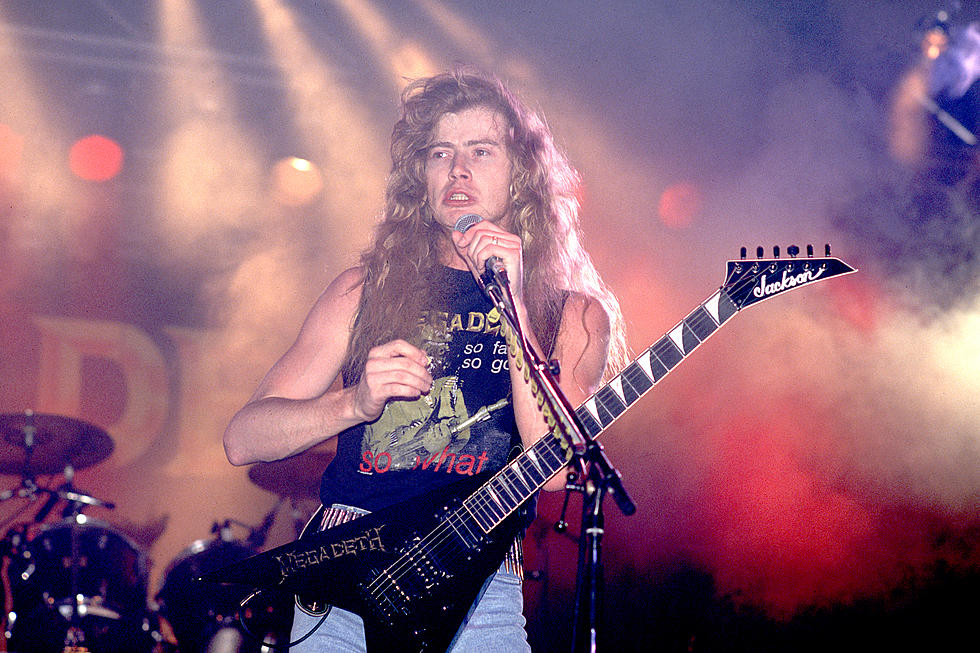 Megadeth's Dave Mustaine Recalls How Crowds Acted During Early Thrash Shows
Paul Natkin, Archive Photos/Getty Images
Nowadays, there are certain unspoken rules at metal shows, so there's a general sense of what to expect when you go to one. But that wasn't always the case. Megadeth's Dave Mustaine has recalled how the crowds used to act during early thrash shows, and a lot of those behaviors would be seen as problematic today.
By the time Mustaine formed Megadeth, thrash was still an underground subgenre of metal. But as clusters of bands creating this type of music started popping up on both coasts of North America, they attracted more and more angsty young people who were looking to get their energy out. According to Mustaine, though, moshing and crowd surfing weren't quite commonplace yet, so the shows were just total chaos.
"The shows were out of control because hardly anyone knew what moshing was," the Megadeth frontman told Metal Hammer. "They weren't familiar with crowdsurfing. Kids would just jump up on the stage and there was no stagediving protocol. Some of them would run over to you and grab your mic stand to get some picks off. They'd bang into your guitar or try to scream into the mic. Then someone would shove them off the stage. It was pure balls-to-the-wall metal insanity."
Mustaine may have had no choice but to put up with that kind of crowd back then, but he certainly does now, and he has no problem telling unruly fans off. During Megadeth's performance in Sweden this year, the frontman repeatedly told a drunk person in the audience to "shut the f--k up." There were a few different accounts of what the person had been doing to irritate Mustaine, but they apparently interrupted him a few times when he spoke to the crowd.
"If I have to say it one more time, I'm gonna ask security to take your fucking drunken ass out of here, do you hear me?" he threatened, then added, "See, that's what happens when cousins fuck."
READ MORE: Study Reveals the U.S. States With the Worst Concert Crowds
In 2023, for whatever reason, there's been an influx of incidents occurring at shows, primarily in the pop and country genres, where attendees have thrown things onstage or even at the performing artist themselves. Mustaine addressed this occurrence in a separate interview a few months ago, arguing that fans wouldn't throw things at the stage if they were enjoying the performance.
Megadeth have a few shows left in 2023, with the next set for Sept. 27 in Bloomington, Ill. You can see the rest of the dates on their website.
10 Ways Not to Be an A--hole at Concerts
Because wtf is going on lately?