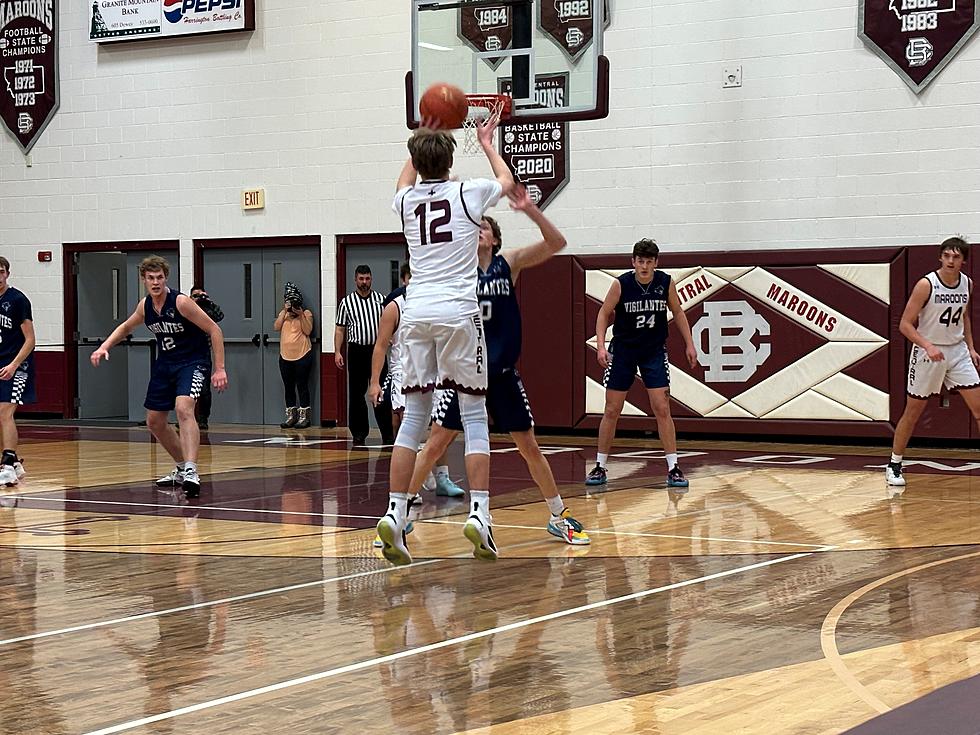 Maroon Basketball: Dougie Southwest MVP, Holter All State, Brodie Kelly Coach of the Year.
Dougie goes for three against East Helena early in the season. Photo: Tommy O/Townsquare Media
The Southwest A announced its all-conference and all-state selections for the 2022-23 basketball season and the Butte Central Maroons are aptly represented.
PEOPLES MVP
Less than a week after it was announced that he had been selected as Montana's Gatorade Player of the Year, Dougie Peoples has won distinction as the most valuable player in the Southwest A as well as a spot on the first-team all-conference list.  Peoples is also first-team all-state again this year.  This season Peoples put up 24.6 points per game to go with 6.2 rebounds in leading the Maroons to a third-place finish at the State Tournament earlier this month in Bozeman.
HOLTER 1ST TEAM ALL CONFERENCE, 1ST TEAM ALL STATE
Joining Peoples on the first team all-conference and all-state teams is Kyle Holter whose thunderous dunks and do-anything attitude thrilled the BC faithful throughout his playing career.  This season, Holter was good for 10.4 points and 4.9 rebounds per game to go with 52 steals and 76 assists on the season.
LOOS, MCPARTLAND HONORED
Senior post Eric Loos brought home 2nd-team all-conference honors while shooting guard, sophomore Owen McPartland landed honorable mention honors.  Taking home the Southwest Montana Coach of the Year award is Brodie Kelly.  Over the last five seasons, Kelly's Butte Central teams have won two state championships and placed third at State twice.
BADOVINAC FIRST TEAM ALL CONFERENCE
Butte Central's do-everything senior guard Brooke Badovinac was honored with first-team all-conference accolades after averaging 23.3. points and 6.6 rebounds per game last season.  Badovinac will be continuing her playing career in Butte as a Montana Tech Oredigger.
Restaurants you will only find in Butte, MT and why you should try them
Check Out 10 Awesome Spring Break Activities
You don't have to travel far to have a good time in Idaho.
LOOK: Must-do activities at every national park
Stacker
lists the must-do activities at every national park ranked by the annual number of visitors.