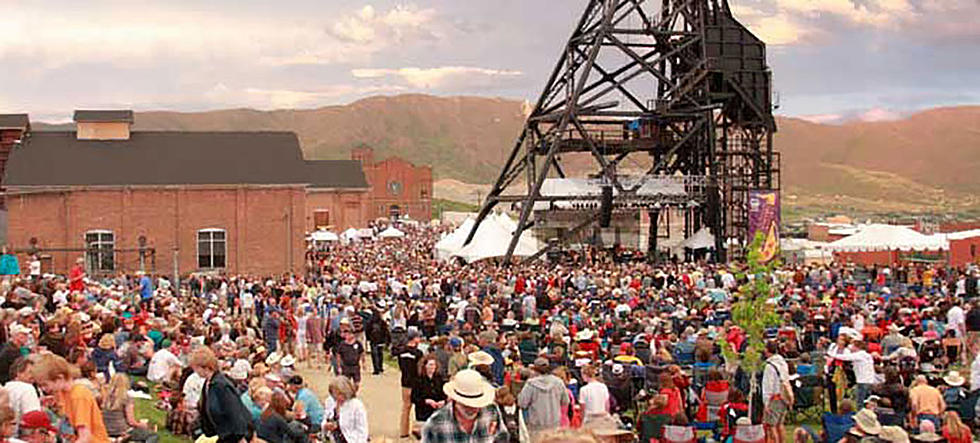 Montana Folk Festival Announces Full Lineup
The Original Stage- Montana Folk Festival
The Montana Folk Festival has given us the final pieces of the performer puzzle, announcing the last seven acts slated to perform at this year's festival.
The first seven performers were announced on March 31st, and you can revisit those HERE.
The next seven performers were announced on April 18th, and you can take a look (and listen) to those HERE.
This will be the 14th year overall for the festival in Butte, with the first 3 years under the banner of the National Fold Festival, and the last 10 years as the Montana Folk Festival. The festival this year is scheduled for July 14, 15, and 16. Admission is free to all performances during the three-day event, although organizers urge attendees to 'Kick-In' a contribution of $25 per person, or $35 for a family to help sustain the festival for years to come.
Here is a look at the final seven acts announced for this year's event:
The Fort Belknap Singers, Native American Drumming from Harlem, Montana. The Fort Belknap Singers are a family-based traditional drum group from the Fort Belknap Reservation. Since 1973, the drummers, now featuring second-generation drummers, have become known along the Montana High Line for their original grassdance style. You can learn more about the Singers and the Fort Belknap Indian Community HERE.
The Korean Performing Arts Institute of Chicago (KPAC)- KPAC is a cultural and educational organization. KPAC is led by Korean traditional performing artist, Suwan Choi who has been performing and teaching Korean traditional music for more than 20 years. Learn more about KPAC on their website Soribeat.org.
Mal Barsamian- Armenaian Oud, Clarinet and Dumbeg. Mal started music very early in life, starting on the dumbeg (hand drum). He comes from a family of oud (lute) players. For over 35 years, he has been a sought-after oud player and clarinetist throughout the country. And that is not all, Mal is a classical guitarist, who obtained his bachelor's and master's degrees from the NEC (New England Conservatory of Music) in classical guitar performance. Read more about Mal HERE.
The Blue Ridge Girls- Appalachian Folk Music, Mouth of Wilson, Virginia. The Blue Ridge Girls are composed of Jamie Collins, Martha Spencer, and Brett Morris. They showcase outstanding musicianship, and honey-sweet vocal harmonies, performing a mix of traditional standards, and Blue-Ridge originals. The Blue Ridge Girls are coming off a fantastic year in 2022, playing FloydFest, Merlefest, Redwing Roots, and the Roots Reunion.
Catherine Russell- Jazz, New York, NY.  Catherine Russell is no stranger to the world of music. Her father, Luis Russell, was a legendary performer and Louis Armstrong's long-time music director. Her mother Catherine Ray was a pioneering vocalist, guitarist, and bassist, who performed with Mary Lou Williams, Sy Oliver, and the Sweethearts of Rhythm. Catherine has appeared on over 200 albums, recording with the likes of Steely Dan, Jackson Browne, Cyndi Lauper, and David Bowie to name a few. Read more about Catherine on her WEBSITE.
Ricardo Lemvo and Makina Loca- Afro-Latin, Los Angeles, CA. Ricardo Lemvo has established himself as a pioneer with his innovative music. Lemvos' blend of Afro-Cuban rhythms with pan-Afrocan styles has been described by the L.A. Times as "seamless and infectious". Lemvo grew up in Zaire, and came to the US over 3 decades ago to pursue a law degree, but instead he devoted all his time to music. Lemvo has performed throughout the world and has been the subject of radio and television programs on several continents. Learn more about the man and his music HERE.
Edwin Colon Zayas- Puerto Rican Cuarto, Aguadilla, Puerto Rico. Growing up in Puerto Rico, Edwin was surrounded by music. At an early age he fell in love with the cuatro, a small guitar, with five double-coursed strings, is the primary instrument used in musica jibara (the music of the peasants). Colon Zayas has recorded several solo albums, and has played on, directed, or arranged more than 250 albums by Peurto Rican artists. Learn more and listen to Edwin HERE.
Now we are ready to roll, all 21 performers have been announced for this year's Montana Folk Festival. You can view the first 7 acts HERE, and the second set of acts that were announced HERE.
See you in Butte, July 14th-16th.
Check Out the Best-Selling Album From the Year You Graduated High School
Do you remember the top album from the year you graduated high school?
Stacker
analyzed
Billboard
data to determine just that, looking at the best-selling album from every year going all the way back to 1956. Sales data is included only from 1992 onward when Nielsen's SoundScan began gathering computerized figures.
Going in chronological order from 1956 to 2020, we present the best-selling album from the year you graduated high school.
Restaurants you will only find in Butte, MT and why you should try them
Food and Restaurants you will only find in Butte, MT Part 2