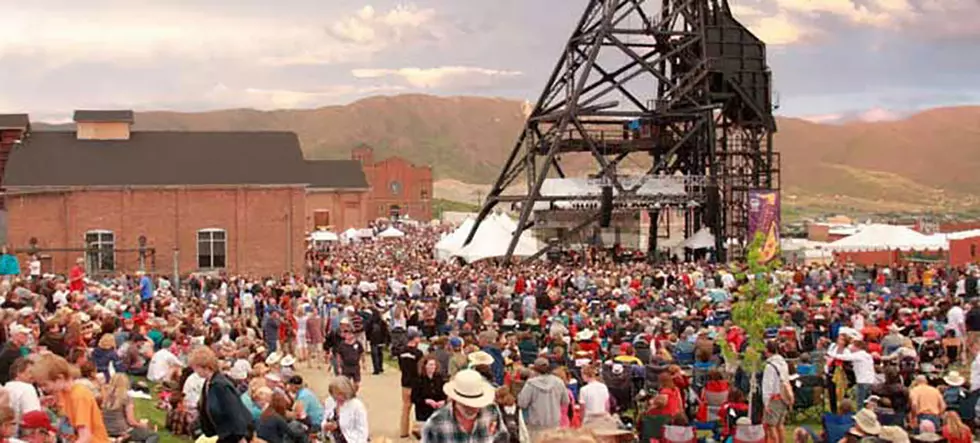 Next batch of performers announced for the Montana Folk Festival
Montana Folk Festival- Crowds at the original
The Montana Folk Festival has announced their next batch of performers for this year's festival. The Festival announced its first seven performers at the end of March, and if you missed those you can take a look (and listen) at those HERE.
This will be the 14th year overall in Butte, with the first 3 years under the banner of the National Folk Festival, and the last 11 years as the Montana Folk Festival. The festival this year is scheduled for July 14, 15, and 16. Admission is free to all performances during the three days of the festival, although organizers urge attendees to 'Kick-In' a contribution of $25 per person or $35 for a family to help sustain the festival for years to come.
Let's look at the latest performer announcements from Festival Director George Everett.
Melody Angel: Melody is a gifted guitarist and multi-instrumentalist, songwriter, and vocalist. She hails from the Southside of Chicago and is steeped in its history of the Blues. Growing up surrounded by amazing musicians, she received her first guitar at the age of 15 (after begging for one for years). She says getting that purple Stratocaster is still the best day of her life. Melody has played the vaunted Chicago Blues Festival and has a regular gig in the windy city at the renowned Rosa's Lounge. You can learn more about Melody Angel on her website HERE.
Cyril Neville: The youngest of the famous Neville Brothers will be part of this year's festival. Cyril picked up his love of music from his parents and his older brothers. In addition to his work with his brothers, he has formed several groups through the years, he founded the New Orleans Musicians Organized, launched his own record label, and several solo albums. Cyril will be an incredible addition to this years festival. You can find out more about Cyril HERE.
Redd Volkaert: Red is regarded as one of THE great guitarists alive. His skills on a Telecaster are stuff of legend, especially in western swing, and honky tonk. He has played with the likes of Merle Haggard, Johnny Paycheck and George Jones. We don't have the time or space to get into Redd's incredible accomplishments, just know that If you love western swing, or you just like to get up and move it, Redd is your man. You can read more on his website HERE.
Taeda:  Taeda is Gaelic for 'Strings'.  Taeda is a traditional band formed in Ireland over 20 years ago. They have played in large festivals all over the world. They are made up of six musicians and have released six full-length albums. Read more about Taeda on their website HERE.
Chaksampa: Chaksampa is a Tabetan Dance and Opera company founded in 1989, in San Francisco. They are considered the most successful performance group outside of Tibet. All members are actors from the Tibetan Institute of Performing Arts in Dharmasala, India. The group works through their performance to build bridges between Tibetan culture and the rest of the world. You can learn more on their website HERE.
Panfilo's Guera: Tejano Conjunto Fiddle out of San Antonio, Texas. Belen Escobedo grew up in South San Antonio, in a Tejano working class community where Tejano music on the radio was the soundtrack of daily life. In 2017 Belen was awarded the Texas Master Fiddler Award. Belen plays with her husband Ramon, and Greg Rush. The trio's name -Panfilo's Guera- honors her gradfather's influence on her, the grandchild he called is Guera, or 'blondie'.
Another incredible list of performers scheduled to perform at this year's Montana Folk Festival, with still more to be announced!
You can read more about the Folk Festival on their website HERE.
LOOK: 50 songs you won't believe are turning 50 this year
LOOK: Explore the iconic buildings from every state
From colonial homesteads to mansions by the ocean, iconic buildings define every state in the country. Stacker compiled this list of notable examples from historic and government reports and news articles.