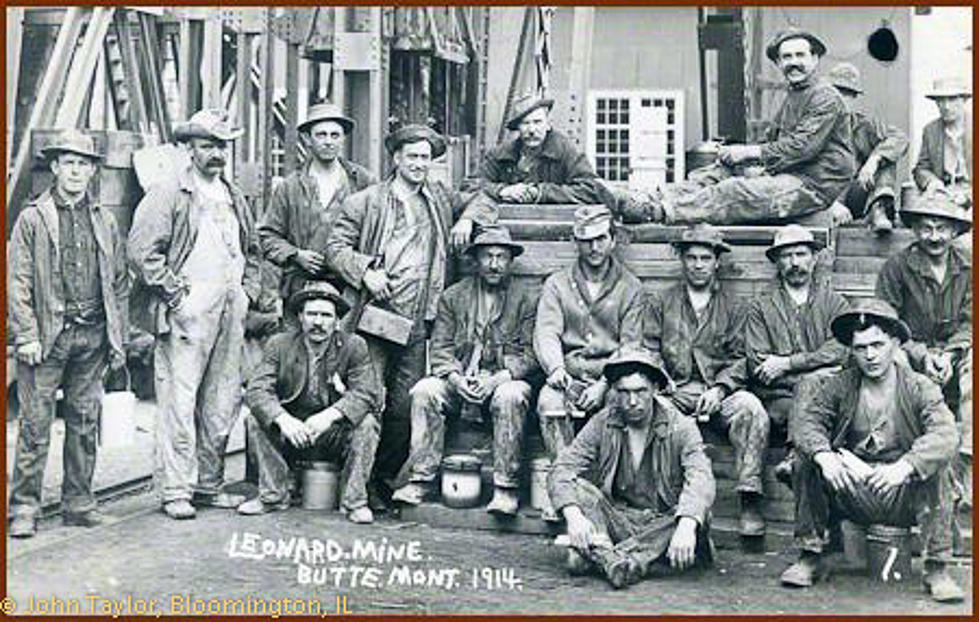 Montana Mining Association Throwing A 50th Anniversary Celebration Tonight
Butte - Miners Union Hall 1914
Let's start with a Jeopardy question. "The ONLY U.S. state that has a Spanish moto."
"What is Montana?"
The Montana state motto is "Oro y Plata", which is Spanish for Gold and Silver.  Gold and Silver are two of the riches that gave rise to the nickname Treasure State.
Gold is a word that changed everything in Montana. In the early 1850s, a fur trapper discovered a small amount of gold in the Deer Lodge Valley, enough to get people talking. In 1862 prospectors found gold along a tributary of the Beaverhead River, over the course of a summer over 400 people flocked to the newly named Grasshopper Creek. A community was founded not long after, and they named it Bannack, after the nearby Bannack Indians.
In 1863 gold was discovered in Alder Gulch. It didn't take long for thousands of prospectors to pour into the area to stake their claim. A year later gold was found in a little gulch in the Prickly Pear Valley, that gulch was called Last Chance Gulch. Over the next four years or so, Last Chance Gulch produced $19 Million worth of gold. (aprox $220 million in today's dollar).
Those are just the metals named in our state's motto; how about copper?
Again, it all starts with gold, prospectors were working the placer deposits in the early 1860s, and more silver was actually found than gold at that time. Marcus Daly arrived in Butte in 1876, to manage the Alice silver mine for the Walker Brothers of Salt Lake City. He noticed the silver lodes he was working showed more and more copper, (at the dawning of the electrical age). Daly purchased the Anaconda prospect, and W.A. Clark started purchasing what he could in the area as well. By 1882, the area produced 9 million pounds of copper. Production leapt by a staggering 250% the following year.
By 1896, the production of copper was over 210 million pounds a year. Accounting for 26% of the world's supply, and 51% of the United States.
This was a REALLY long-winded way of saying that the mining industry is at the heart of Montana, and all of us have had family that has worked the veins of this great state.
According to the National Mining Association website, mining in Montana accounts for 21,038 jobs.
The Montana Mining Association is celebrating their 50th anniversary tonight with pizza and beverages at the Butte Brewing Company tonight from 5p – 7p.  You can learn more about the Montana Mining Association and become a member.
I asked MMA Executive Director Matt Vincent about the importance of the MMA,
"In 1973 the Montana Mining Association celebrates being one of the state's longest standing trade associations. In our Treasure State, mining has always been an important part of our culture and economy. Thanks to rightfully stringent regulations, abundant natural resources, and an ever-growing need for metals and minerals, responsible mining continues to be vital to our state, its local communities, and in our daily lives. We want more people to recognize that celebrate that so we can continue to serve a robust mining economy from the next 50 years."
- Matt Vincent Montana Mining Association Executive Director.
Join the membership drive kickoff and social tonight at the Butte Brewing Company, from 5pm – 7pm.
Know Your Butte History: Standing Mine Headframes
Dozens of mine headframes used to dot the Butte hill but most have since been torn down or swallowed by the Pit. Here are the ones that still tower proudly over our town.
Five Things You Must See When Visiting Butte, Montana
Butte, Montana is a history buff's dream. With a history of being a rough-and-tumble mining camp, Butte is home to one of the largest Historic Districts in the nation and a has some fascinating things to see whether you're visiting for a day or for the season.