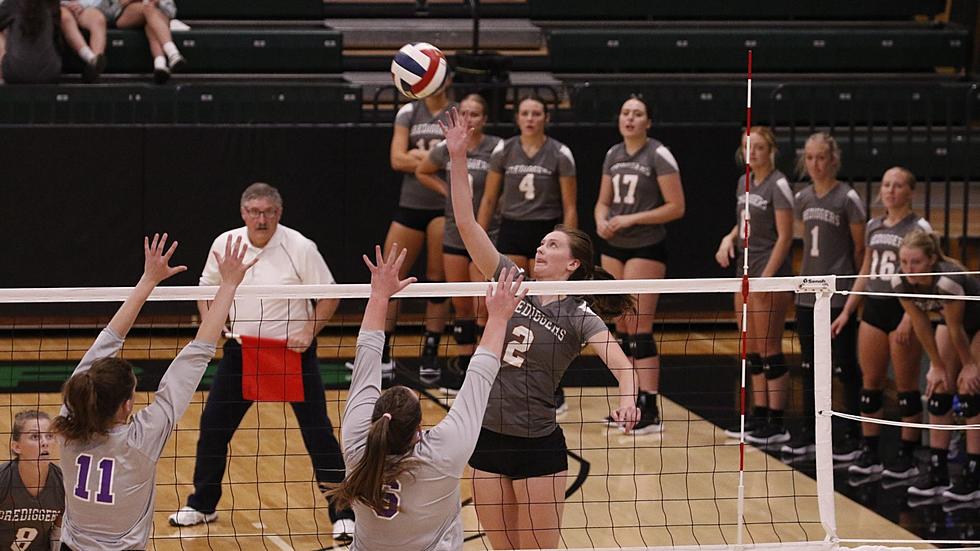 Oredigger Volleyball cracks NAIA Top Ten
Photo: godiggers.com/5518 Designs
The Montana Tech Volleyball team will enter play this weekend riding the highest national ranking in program history.  The following is a release from the Montana Tech Athletic Department:
KANSAS CITY, Mo.- The National Association of Intercollegiate Athletics (NAIA) has released its third Women's Volleyball Coaches Top 25 rating of the year, and the Orediggers have jumped to No. 9 in the country.
The Orediggers have been in the coaches' poll for a school-record 18 consecutive polls. The No. 9 ranking also represents a school record, as the highest Montana Tech has ever been ranked in volleyball.  Montana Tech is the only school from the Frontier Conference in the current top 25. Rocky Mountain College, ranked No. 23 previously, has fallen out of the poll. Montana Western and Rocky Mountain College both received votes, but not enough to fight into the Top 25.
There is a new No.1 school in the land, Concordia (Neb.). Concordia is 13-0, and one of only two undefeated programs remaining. They were No.2 last poll and have jumped up to the top spot after Eastern Oregon took a loss and dropped to No.4. Northwestern (Iowa) is No. 2, Indiana Wesleyan is No. 3, Eastern Oregon 4, and Corban (Ore.) rounds out the top 5.
Montana Tech (12-2 overall, 1-0 Frontier) has won their last five, and are preparing for two home conference matches on Friday and Saturday against MSU-Northern and Rocky Mountain College respectively.
To purchase tickets for the Friday evening match against MSU-Northern or Saturday afternoon's match against Rocky Mountain College, please contact Digger Athletics at (406) 496-4105, or E- Mail orediggers@mtech.edu.  Friday's match begins at 7pm while Saturday's will start at 2pm.  Both matches will take place at Kelvin Sampson Court.
Inside the Home of Raiders Nation at Las Vegas' Allegiant Stadium
Have you ever dreamt of visiting the home of the Las Vegas Raiders? Well here's a quick look inside Allegiant Stadium in Las Vegas during the September 24th, 2023 SNF game against the Pittsburgh Steelers.
Five Frivolous Lawsuits
Sometimes, it's just easier--and less expensive--to admit mistakes.