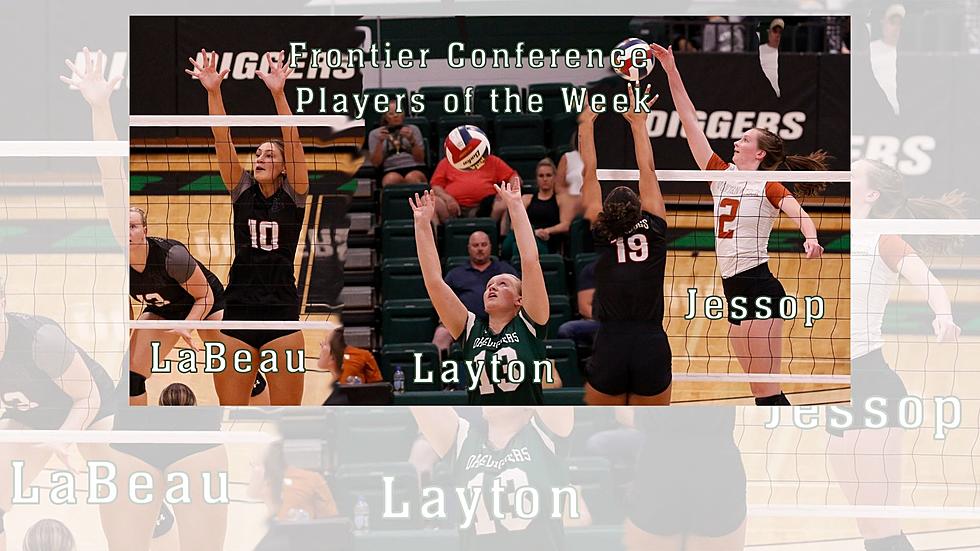 Frontier Volleyball players of the week are all Orediggers
Photo courtesy of Digger Athletics
The Montana Tech Volleyball team was in Bellevue, Washington over the weekend and oh, what a weekend they had.  The Orediggers won all three of their matches and all three Erck Hotel/Frontier Conference Player of the Week awards go to a 'Digger.  The following is a release from the Montana Tech Athletic Department:
BUTTE, Mont. – The Montana Tech Volleyball Team earned all three Erck Hotel/Frontier Conference Player of the Week Awards. Maureen Jessop, Olivia LaBeau, and Ryhs Layton are the players of the week.  The Orediggers won all three matches in Bellevue this weekend including a 3-1 victory over host No. 19 Bellevue.
Jessop, an outside hitter from Corvallis, is the conference attacker of the week. She finished the weekend with a 4.18 kills per set average while hitting .330 on the weekend. She tallied 19 kills in wins over Bellevue and Dakota State, including a .400 hitting percentage against Dakota State.
Layton, a freshman from Eagle, Idaho, averaged 7.64 assists per set during the three matches, with 31 against Bellevue and 35 against Dakota State. She also averaged 1.45 digs per set and had four service aces.
LaBeau is the defender of the week. The Billings native had 19 blocks in the three matches averaging 1.73 blocks per set. She had six blocks in the first two matches and then posted seven in the weekend finale. Labeau added 2.91 kills per set on .415 hitting.
The Orediggers host Providence this Friday. The match starts at 7 p.m.
Tickets to Friday's match will be available at the Montana Tech HPER complex on the date of the game and the doors will open at 6pm.
Rappers With Distinctive Voices in the Last Few Years
Top 15 Industries Expecting A Raise For 2024: Do You Work For One?
Payscale's Salary Budget Survey offers a detailed breakdown of the actual pay increases paid out in 2023 as well as projected pay increases for 2024 broken out by the following employee groups:
• Non-Exempt Employees
• Exempt Employees (Non-Management)
• Managers
• Officers & Executives
Gallery Credit: Kyle Matthews
8 Weird and 14 Obvious Items You Need ID to Purchase or Do
I decided to go to ChatGPT to find out other weird items that require an ID in Texas. This obviously isn't all of them but you've probably had to show ID when buying or participating in any of these.
Gallery Credit: unsplash.com, amazon.com
Celebrities Who Are Pro-Choice
For years, celebrities who support abortion access have discussed their political views surrounding the controversial topic, as well as donated to organizations such as Planned Parenthood. Below, discover 25 celebrities who publicly support the right to abortion access.
Gallery Credit: Natasha Reda
Celebrities Who Are Pro-Life
It's safe to say abortion is one of the most controversial topics in politics, and while many Hollywood stars are pro-choice and publicly support organizations like Planned Parenthood, there are still plenty of pro-life celebrities. Below, discover 25 pro-life celebrities who do not support the right to abortion access.
Gallery Credit: Natasha Reda
A Dad's List Of Must-Have Winter Essentials You Need In Your Car
Gallery Credit: Brett Alan