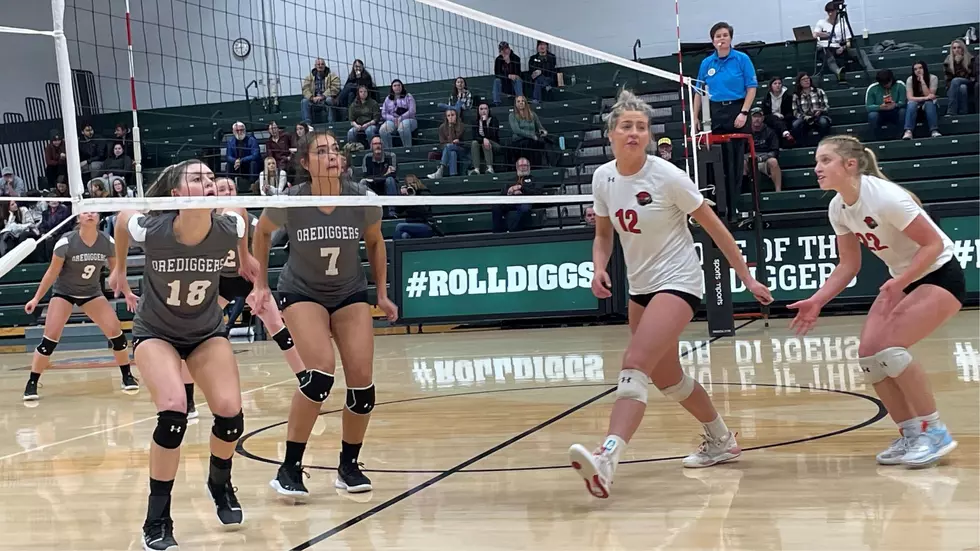 Montana-Western dumps Diggers in Frontier Volleyball Semifinals
Photo: Tommy O/Townsquare Media
You don't want to face a hot team at tournament time and this year that team is the University Montana-Western Bulldogs.  Just hours after taking down third-seeded Carroll College in the first round, the Bulldogs put together one of their finest games of the season in defeating the host team and regular season champion Montana Tech Orediggers in four games, 19-25, 25-16, 25-18, 25-23 Friday evening at Kelvin Sampson Court at the Montana Tech HPER complex.
Martin Dominates.
McAllister native and Ennis High School product Danyel Martin was a force in the fourth and final game having a big hand in the Bulldogs final five points which broke open a 20-20 tie and gave Montana-Western the victory.  Martin finished the game with 12 kills, 2 behind teammate Jazi Smith's game-high 14.  Junior outside hitter Kaylee Kopp finished with 10 kills for Montana-Western who will advance to tomorrow afternoon's conference championship match at 2pm.  The Bulldogs offense got a lot of help from their backline with Smith, Kaylee Fritz and Kelsey Goddard combining on 68 digs.  Montana Tech was led by Olivia Muir who finished the match with 10 kills followed by Maureen "Mo" Jessop with 9 and Olivia Labeau with 8.  Taylor Henley followed with 7 kills for the Orediggers.
Diggs Season May Not Be Over
Although the loss to Montana-Western is indeed a setback, the Orediggers have reason to keep their heads up as their chances for an at-large bid to the NAIA national tournament when taking into consideration their 24-8 record and national ranking which stood at #15 before the tournament.  We will find out early next week what the future has in store for the 2022 Orediggers.
Butte's Ghost Signs Part 1
Uptown Butte was once one of the largest urban centers in the Northwest and the bustling heart of a thriving Mining City. Here is the first in a series of some of the ghost signs you can see Uptown that have survived through the decades.
"Ghost Signs" of Uptown Butte Part 2
Butte's Ghost Signs Part 3
Here's a look at more of Uptown Butte's ghost signs.
Butte's Ghost Signs Part 4: The Warehouse District
Know Your Butte History: Standing Mine Headframes
Dozens of mine headframes used to dot the Butte hill but most have since been torn down or swallowed by the Pit. Here are the ones that still tower proudly over our town.
LOOK: See what Christmas was like the year you were born
LOOK: Here are the pets banned in each state
Because the regulation of exotic animals is left to states, some organizations, including The Humane Society of the United States, advocate for federal, standardized legislation that would ban owning large cats, bears, primates, and large poisonous snakes as pets.
Read on to see which pets are banned in your home state, as well as across the nation.
Jason Isbell's Best Live Shots
RANKED: Here Are the 63 Smartest Dog Breeds
Does your loyal pup's breed make the list? Read on to see if you'll be bragging to the neighbors about your dog's intellectual prowess the next time you take your fur baby out for a walk. Don't worry: Even if your dog's breed doesn't land on the list, that doesn't mean he's not a good boy--some traits simply can't be measured.