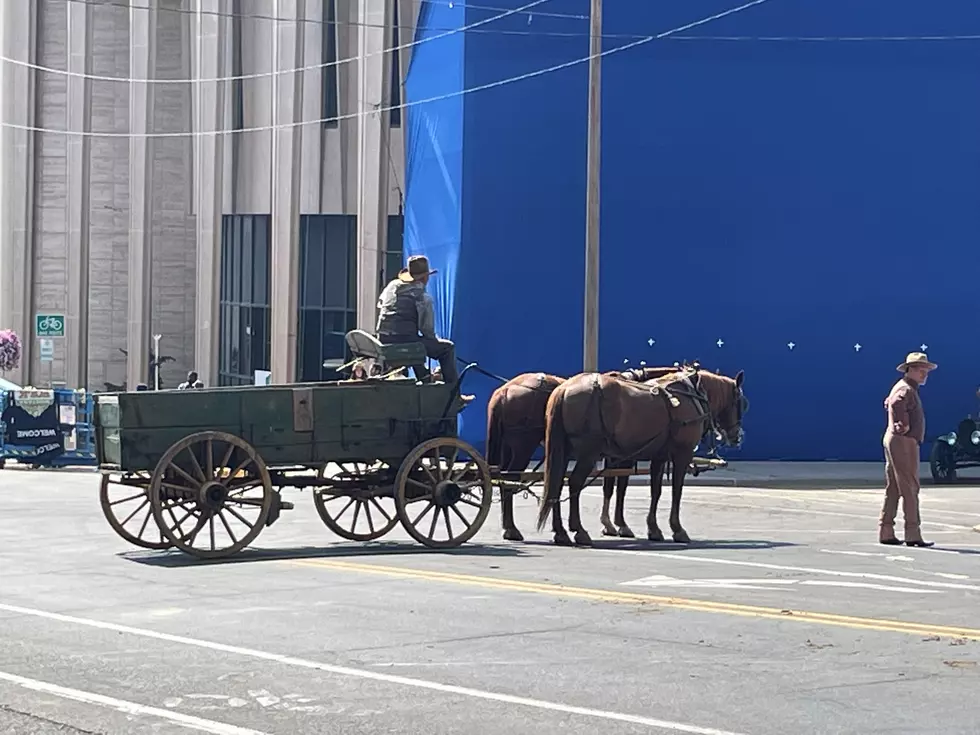 "1923" filming to temporarily close Uptown streets today
A giant blue screen covers the modern day Prudential building on the set of 1923" earlier this year. Photo: Tommy O/Townsquare Media
With production moving along on 1923, several street closures will be in effect today in Uptown Butte.  Closures will start early this morning but should be wrapped up by late evening, however officials state that times are not exact and may fluctuate due to weather and other factors.
The areas affected are in and around the Butte-Silver Bow Courthouse area with two blocks of Granite Street closed from Montana east to Main Street.  Alaska Street in front of the Sheriff's Department will also be off limits as will be Quartz Street from Main Street west to Montana.
1923 is produced by Taylor Sheridan and is a "Yellowstone" prequel series following the immense success of "1883", another prequel series that followed the Dutton clan on their way from Tennessee, through Texas and eventually on to Montana.  1883 featured stellar performances from such heavyweights as Sam Elliott, Tim McGraw and Faith Hill.  The cast of 1923 may be even stronger with Academy Award winner Helen Mirren in the leading lady role and the legendary Harrison Ford as the leading man.  Details and their place in the Dutton family hierarchy are purely speculation at this point, but the series' teaser trailer provides a little bit of insight.
The production of "1923" has been evident in Uptown Butte as earlier this summer other blocks of the Uptown were closed for filming on what is truly a major Hollywood project.  Butte's present-day Broadway street was literally transformed into Sheridan's vision of 1923-era Bozeman as the Dutton clan presumably deals with prohibition and the days leading up to the Great Depression.  Presumably.  Which is what makes us all the more eager for 1923's premiere this December on Paramount Plus.
Behind The Scenes Peek at Yellowstone Prequel Filming in Butte
Production on the new Yellowstone prequel, "1923" is officially underway in Butte, MT. Here's what we found on a huge outdoor set.
Restaurants you will only find in Butte, MT and why you should try them
You Can Rent a Cabin on the Ranch From 'Yellowstone' - See Pictures
The stunning Montana ranch that serves as the setting for the hit TV show Yellowstone offers cabins for rent, and the price includes tours of the set and ranch. Scroll below to see photos of the extraordinary property.
PICTURES: See Inside Kevin Costner's Spectacular Colorado Ranch
Yellowstone star Kevin Costner lives the ranch life when he's off the set of the hit show, too. The Oscar-winning actor owns a 160-acre ranch in Aspen, Colo., that's a spectacular getaway, complete with a main residence, a lake house and a river house.
The luxury retreat also features a baseball field, a sledding hill, an ice rink, multiple hot tubs and views of the Continental Divide. The ranch property comfortably sleeps 27 people, and it's currently available to rent for 36,000 a night.
Stars We Lost in 2022
See the famous icons we have had to say goodbye to in 2022, below.
10 Horror Movies That Are Supposedly Cursed
From mysterious on-set accidents to unexplainable audience reactions, these movies have all gained a reputation for being cursed.