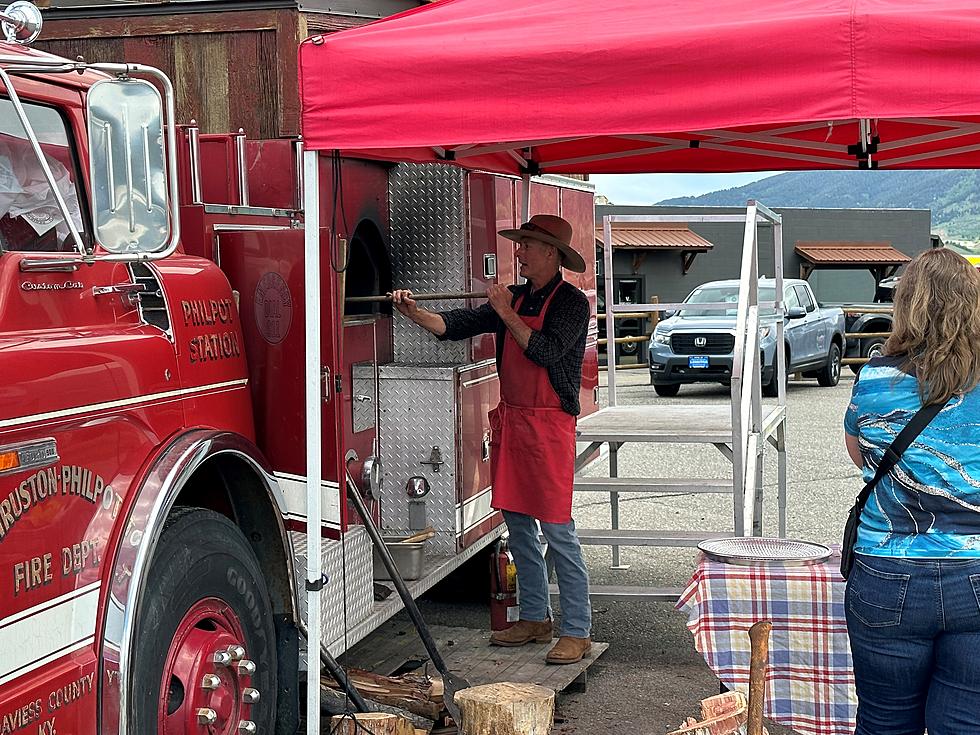 Big Hole Pizza – the hottest truck in Butte
Donny works his delicious craft. Photo: Tommy O/Townsquare Media
By now you've seen the Big Hole Pizza fire truck around town and you've probably even had yourself a slice or two.  Big Hole Pizza is becoming increasingly popular a big reason why is their delicious, cooked to perfection thin crust pizza that comes hot out of a real wood-fired oven.
In fact, Donny, one of the proprietors, tells us that he built the oven himself way before the fire truck was even a thought.  "I realized how heavy it was.  It was, like, 5,000 pounds," Donny told us adding that the weight seriously limited his options.  But in a decrepit fire truck in a field, Donny found inspiration.  "I drove by my neighbor's yard and there was 'Philpot', our fire truck that came all the way from Kentucky."  Philpot was originally intended for a volunteer fire department a few states away but it was not up to standards, so it sat in a field for 15 years.
"We pulled 'er out of the weeds, rebuilt the carburetor and put a kitchen in the back," Donny told us adding that the kitchen, while small, features all of the amenities of a traditional commercial kitchen from a prep area to a sanitation station.
The oven, however, is only part of Big Hole Pizza's formula.  All of their pizzas are made from scratch with premium ingredients.  In fact, the unbleached flour for their dough comes all the way from Utah and is purchased at the Front Street Market.  And it's a recipe for success.  Visit them on Facebook to find out where Philpot will be parked and feel free to call in your order in advance. 
Cities in Montana That Have a Symphony Orchestra
Montana cities are packed with true, big city talent within their symphony orchestras and programs. We even have a support organization for all of the separate symphonies across the state. Treat yourself to a performance soon - you will not be disappointed.
Wyoming-Montana Boys Basketball All-Star Game
Wyoming-Montana Boys Basketball All-Star Game
20 Amazing Descriptions Of Montana To Someone Who's Never Visited
We asked our listeners to describe Montana to people who have never been in 6 words and these were the 20 best responses we got.