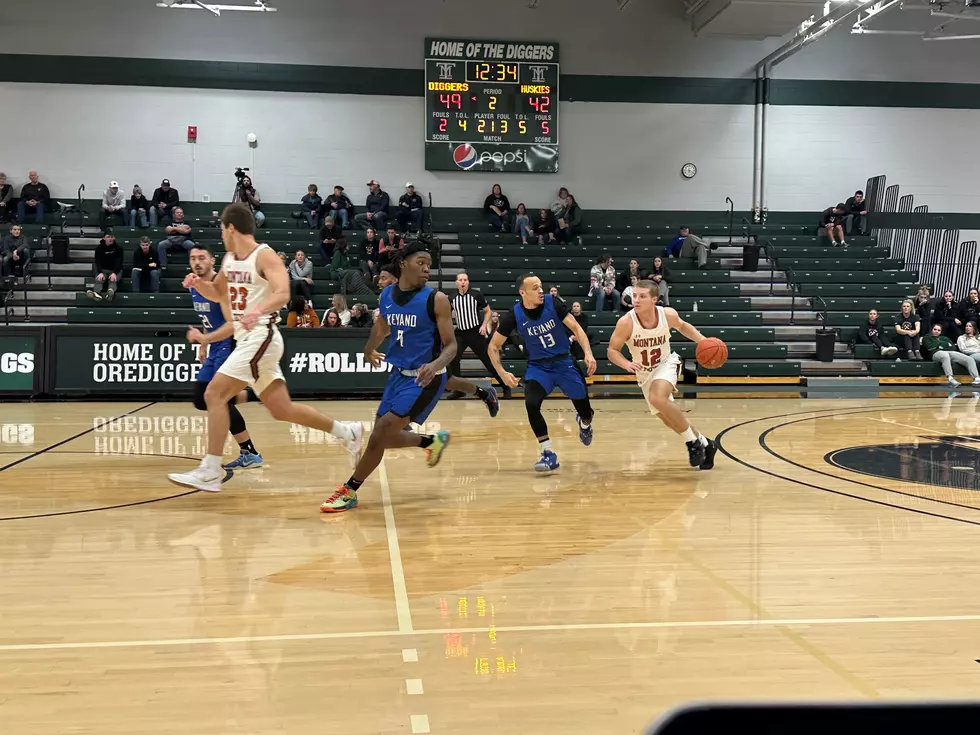 Have you seen the 2023 Oredigger Men's Basketball Team? You really need to.
Keeley Bake attacks the press. Photo: Tommy O/Townsquare Media
If you haven't been to an Oredigger game this season, you seriously need to do something about that.
The Montana Tech Orediggers Men's team is coming off nothing less than a monumental season last year.  We remember Sindou Diallo, Taylor England and, of course, Drew Huse and his title-winning three pointer.  But believe it or not, when it gets down to it, the Orediggers are still looking good even though they lost heavily to graduation.  They are looking really good. 12-4 right now and ranked in the top 15 in the nation.  How did they reload so quickly?
Last year, we got a glimpse of Michael Ure but didn't really find out much about redshirt freshman Hayden Diekhans.  Well, as it turns out, Ure is the 2019 Gatorade Player of the Year for Idaho but spent two years on an LDS mission where he didn't exactly spend a lot of time playing basketball.  Last year's Michael Ure was getting back into basketball form.  This year's Michael Ure is deadly.  6'7 with long-range accuracy, Ure is equally as capable in the post where his footwork is impeccable.  And Hayden Diekhans?  Oh, let's talk about Hayden Diekhans.  A Geraldine native who played high school ball at Fort Benton, Diekhans is an athletic 6'6 forward who attacks the rim with the ferocity of a slimmer Charles Barkley.  And the kid can jump, having provided Digger fans with emphatic slam dunks in each of their home games so far this season.  But don't let him open on the perimeter.  The University of Providence learned that the hard way on Saturday as Diekhans shot his way back into double figures.  Newcomer Asa Williams is a fine addition at guard and it seems that the bigger the shot, the higher his percentage.  Williams shot was the nail in the coffin last Thursday that sent the Carroll College Fighting Saints marching back home to Helena.  Guard Crishon Dixon is no stranger to Butte Central fans as he is a Billings Central graduate who helped the Rams to a 2019 state tournament win over the Maroons.  He is a smooth guard, lighting-fast and a lot of fun to watch.
Of course, the Orediggers did not graduate everybody.  Caleb Bellach is back and that is bad news for other Frontier Conference teams as he was last season's Newcomer of the Year and is putting up double digits again this season. Keeley Bake is also returning and so is his three point jumper.
The Orediggers will be in action this Thursday at home against MSU-Northern.
12 Actors Who Started As Extras In Movies And Television
These famous actors all began their on-screen careers with uncredited roles in movies and TV.
LOOK: Here's where people in every state are moving to most
20 Albums Turning 20 in 2023
Classic rockers made bold statements, while pioneering new bands took cues from the masters.
See January 2023 New Music Releases
Which January hip-hop projects will you rock with to start 2023?
LOOK: 23 astronomical events to look out for in 2023
Sta



cker
compiled a list of 23 astronomical events to observe in 2023 using a variety of news and scientific sources.