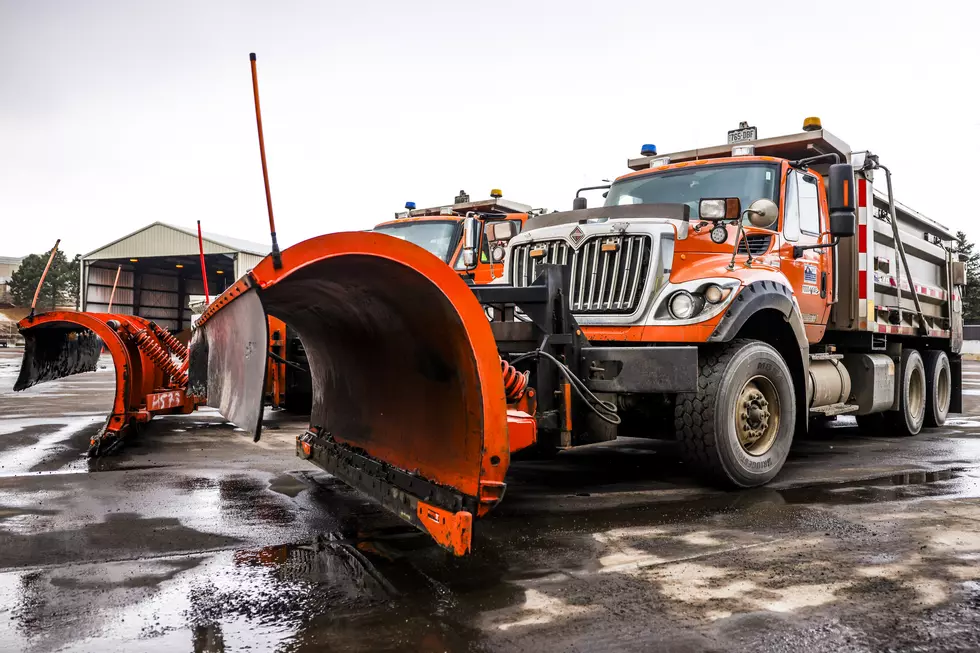 Heavy Snow and Bitter Cold weather incoming
Dept. of Transportation snow plows prepare for an incoming storm (Photo by Michael Ciaglo/Getty Images)
A strong arctic front will bring heavy snow, blowing snow, and high winds across Montana.
The winter storm warning includes Georgetown Lake, Homestake Pass, and McDonald Pass. The official warning 'window' runs from 1 pm Friday afternoon to 11 am Saturday.
There are multiple winter warnings statewide. Beaverhead and Western Madison range, Canyon Ferry Area, Ruby Mountains. In the northern part of the state, the Flathead Lake area has a Winter Weather Advisory and an Avalanche Warning.
The snow will hit Montana in a wide band today and continue through the night. Friday night will see a significant arctic surge push into the state and drop the temperatures to 0 or below, possibly causing flash freezing on roadways making travel hazardous.
The snow will start to diminish statewide Saturday night / Sunday morning, and the concern will transition to the continual sub-zero temperatures and dangerous wind chills.
Butte:
We expect 3-8 inches of snow by Saturday afternoon for the Butte Area. Temps will continue to fall as well, the expected low on Saturday night down to -26, with wind chills exceeding -35. On Sunday night temps could dip to -35 degrees.
Dillon:
Dillon could see 2-6 inches of snow by Saturday evening. Nighttime temperatures on Saturday down to -15, and wind chill values down to -25. Sunday night could see the temperature down to -20.
Helena:
The National Weather Service is showing Helena could receive 10 inches of new snow by Saturday evening. The State Capital will see temps down to -12 on Saturday night, with wind chill readings down to -30. Sunday night could dip to -15.
Mother Nature is back with a vengeance. You can see the full Montana Forecast from the National Weather Service here.
If travel is necessary, you can view the latest road conditions from the Montana Department of Transportation here.
Stay warm.
What You Need in Your Montana Winter Road Survival Kit
Winter on Montana's roads, highways and interstates is the most dangerous time of the year. Here is what you should always keep in your vehicle in case something goes wrong.
LOOK: The most extreme temperatures in the history of every state
Stacker
consulted 2021 data from the
NOAA's State Climate Extremes Committee (SCEC)
to illustrate the hottest and coldest temperatures ever recorded in each state. Each slide also reveals the all-time highest 24-hour precipitation record and all-time highest 24-hour snowfall.
Keep reading to find out individual state records in alphabetical order.