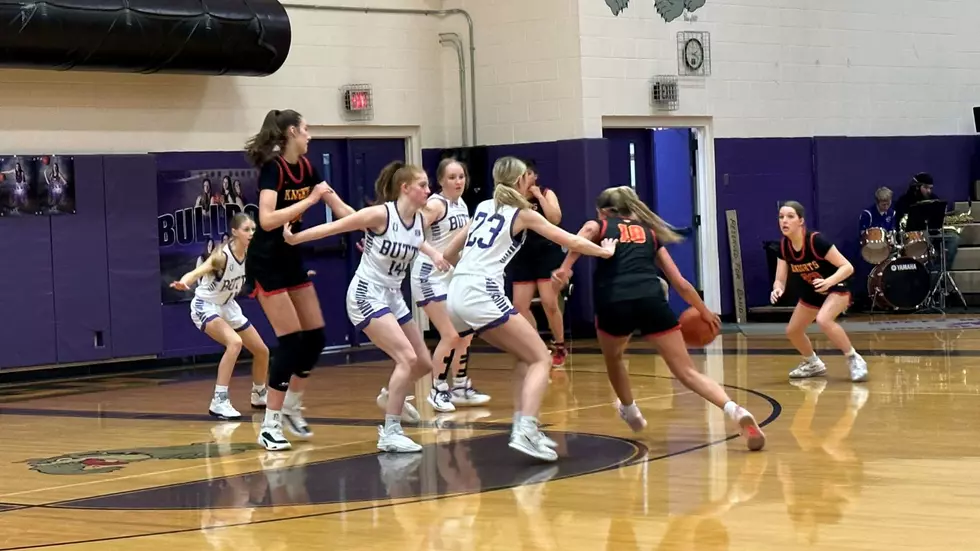 Hellgate gets past Butte High girls
Hellgate's Chloe Larson drives on her way to a game-high 33-points against Butte High. Photo: Tommy O/Townsquare Media
The good news is that the Butte High Bulldogs held Missoula Hellgate's 6'6 post Alex Covill to 4 field goals and 13 points and attacked her on offense resulting in the talented senior fouling out with 2:47 to play.  The bad news is that 5'11 forward Chloe Larsen lit up the Bulldogs for 33 points and the Knights beat the Bulldogs 67-56 Friday night at Ross J. Richarson Gymnasium on the campus of Butte High School.
Butte High played with a considerable height disadvantage but held their own on the inside behind solid play of seniors Brooke Groesbeck and Laura Rosenleaf.  Rosenleaf's continuation on a foul by the Knight's Faith Soden would put the Bulldogs up 19-18 with 1:51 to play in the first half.  However, the Knights would go on an 8-2 run over the next 1:23 and would take a three-point lead into the locker room.
Larsen came alive in the third, scoring 15 in the quarter, but the Bulldogs would get Coville in foul trouble sending the talented senior to the bench with her 4th personal foul with 5:58 to play.  She would sit the remainder of the period and the Bulldogs would go inside with Rosenleaf getting 8 in the quarter.  The Bulldogs would trail 44-40 going into the 4th.
Sophomore guard Shannon Kane would hit a three-pointer 12 seconds into the quarter and with the return of Coville to the paint, things would open up for the Hellgate offense.  In addition to her game-high 33 points, Chloe Larsen would set up Maddie Petrino and Elly Reed on consecutive possessions that would open up a 15-point lead with under 2 minutes to play and would go on to an 11-point win.  The Knights beat the Bulldogs 60-32 in Missoula earlier this year.  Brityn Stewart had another strong game with 15 points while 8th-grader Cadence Graham had 9.  Dylann Bartoletti and Emmarie Richard each added 5 for the Bulldogs while Brooke Groesbeck had 2.
Butte High will return home next Friday hosting Missoula Sentinel.
Adorable Dogs of Missoula
Missoulians submitted pictures of their dogs for National Dog Day. Enjoy!
24 Missoula Businesses That Have Closed Since 2020
A large amount of Missoula businesses have closed over the last couple of years for a variety of different reasons. Retirement, COVID-19, changes in ownership.....here's a list of 24 businesses that we've lost.
10 Deepest lakes in the World
A rundown of the 10 deepest bodies of water on Earth