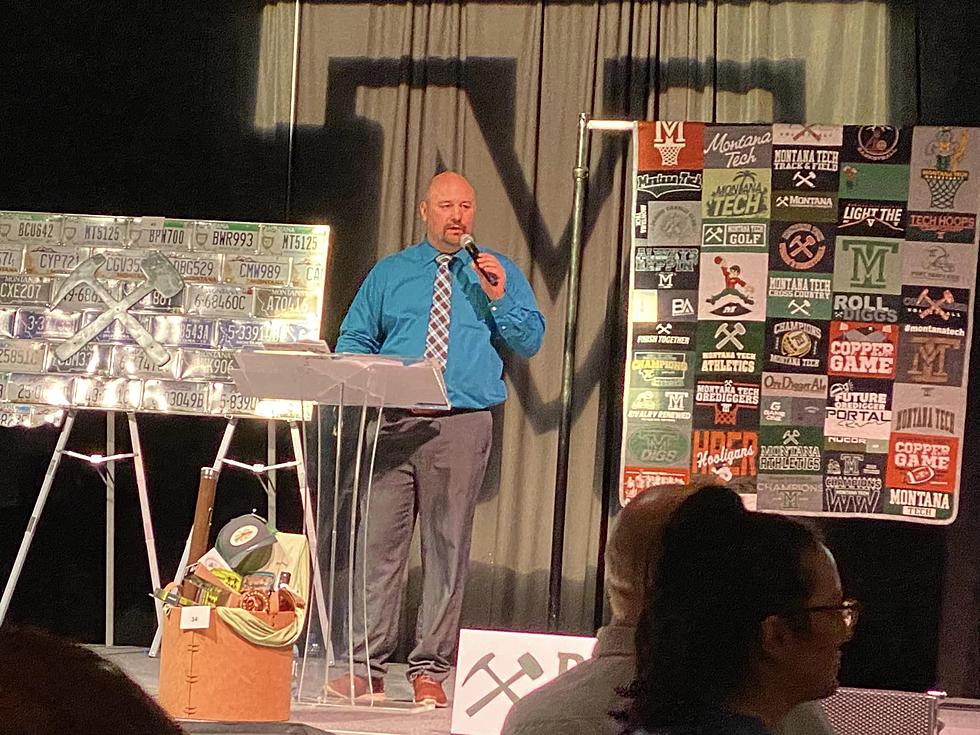 How about this surprise during the Montana Tech Athletic Auction
Montana Tech Athletic Director Matt Stepan - photo courtesy of Julie Mayson
Going into the Montana Tech Oredigger auction there are always a lot of surprises. From incredible one-of-a-kind auction items to people you haven't seen for some time, the surprise is a small part of what makes it such a special night.
I went into the night thinking that the signed Joe Montana- Notre Dame football, and the epic fishing trip with Volleyball Coach Brian Solomon were going to be the 'big' surprises of the night, and boy was I wrong.
The highlight of the evening was a recorded message from 1984 alumnus Ryan Lance announcing that he and his wife Lisa are committing $1,000,000 towards athletic scholarships at Montana Tech.
40 thousand of which was used as a challenge during a "paddle ask" by Montana Tech Foundation CEO Jaime Heppler, and Athletic Director Matt Stepan. The challenge was easy, try and match the 40 thousand dollars that was going into the annual scholarship. That number was not only met but was exceeded!
Over 90 thousand dollars was raised during the paddle ask, which results in $130,000 in annual scholarships for Montana Tech athletes.
The remaining 960 thousand dollars from the 1-million-dollar gift will go into an endowed scholarship that will benefit Oredigger athletes for generations.
This gift from Ryan and Lisa Lance will resonate on the Montana Tech campus for years to come, and I can't wait to see the impact it has on Oredigger student-athletes.
I would like to thank the Lances for this incredible gift. I would also like to thank everyone who attended the auction this year, we had a packed house and an incredible night. I also want to thank the army of people who made donations to the auction, every single year it takes my breath away.
You can keep tabs on Oredigger Athletics via the GoDiggers.com site.
You can also look at the great work being done by the Montana Tech Foundation, via their WEBSITE. You can also find ways you can also help future students at Montana Tech.
#RollDiggs
Oredigger All Conference
Montana Tech Football All-Conference list
LOOK: Biggest underdog victories in March Madness
Every spring, legions of sports fans turn their attention to college basketball when
March Madness
takes the national spotlight. Using aggregated Associated Press data, BestOdds has come up with 10 of the biggest—and most unlikely—underdog wins in March Madness history.