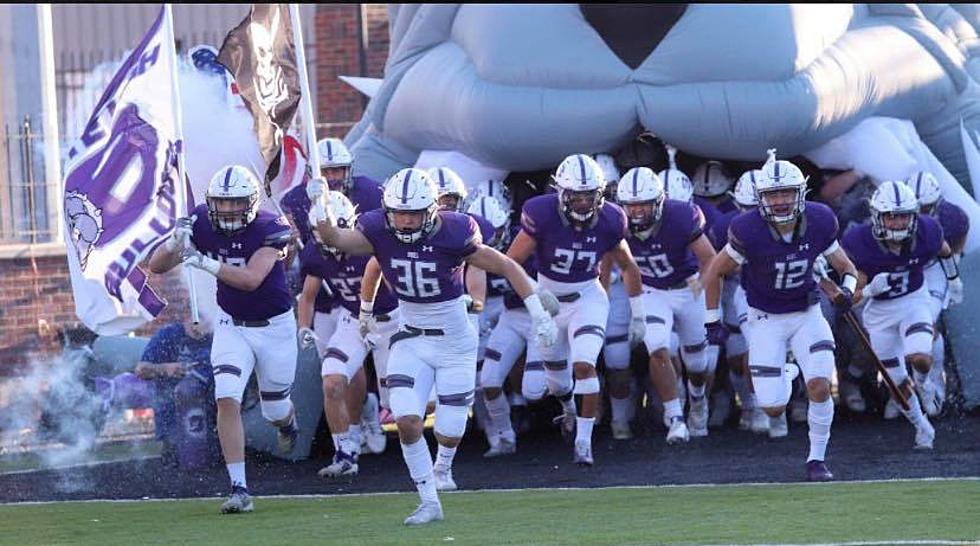 Bulldog Football looks towards playoff game; BC, Butte High Volleyball also in action
Photo: Facebook/Butte High Football
The Butte High Bulldogs football team is in the playoffs and hosting a first-round contest on Friday.  But first, there are some volleyball matches to deal with.  Here is a look at this week's Butte High and Butte Central activities schedule for this week as we are at or near the end of the fall semester's regular season.
TUESDAY, OCTOBER 24:  Both the Butte High and Butte Central volleyball teams are in action.  The Maroons will be celebrating Senior Parent Night at the Maroon Activities Center, 550 E. Mercury St.  Butte Central will be hosting the Dillon Beavers with the freshmen playing at 4:15, the JVs at 5:30 and the varsity match set for 7pm.  The start time of the varsity match may fluctuate as the Maroons are honoring their senior players and their families.  The Butte High Bulldogs are on the road at Helena Capital.  The Frosh/Purple squad and the Sophomores will have their respective matches at 4pm followed by the Frosh/White and JV squads playing at 5:30. The varsity match is set for 7pm.
THURSDAY, OCTOBER 26:  The Class "A" volleyball postseason begins with a divisional play-in game for the Butte Central Maroons.  Time, opponent and location are dependent on the regular season results and have not yet been determined.  What is set, though, is Butte High's home match against the Helena High Bengals.  The Frosh/Purple and Sophomores again will play at 4pm with the Frosh/White and JVs playing at 5:30 and the varsity match at 7pm.
FRIDAY, OCTOBER 27:  The Butte High Bulldogs will host the Billings Senior Broncs in the first round of the Class AA Football Playoffs at 7pm at Naranche Stadium.
SATURDAY, OCTOBER 28:  The Butte Central volleyball team could be involved in another play-in game depending on Thursday's results.
Some unique rentals around Butte Montana
a look at some of the more interesting rentals in and around Butte Montana
Gallery Credit: Paul Panisko
The Ott's impressive Halloween display
To say that Mike and Tiffany Ott go all-in for Halloween would be an understatement. Their display is the best in town and here's a look at what we saw.