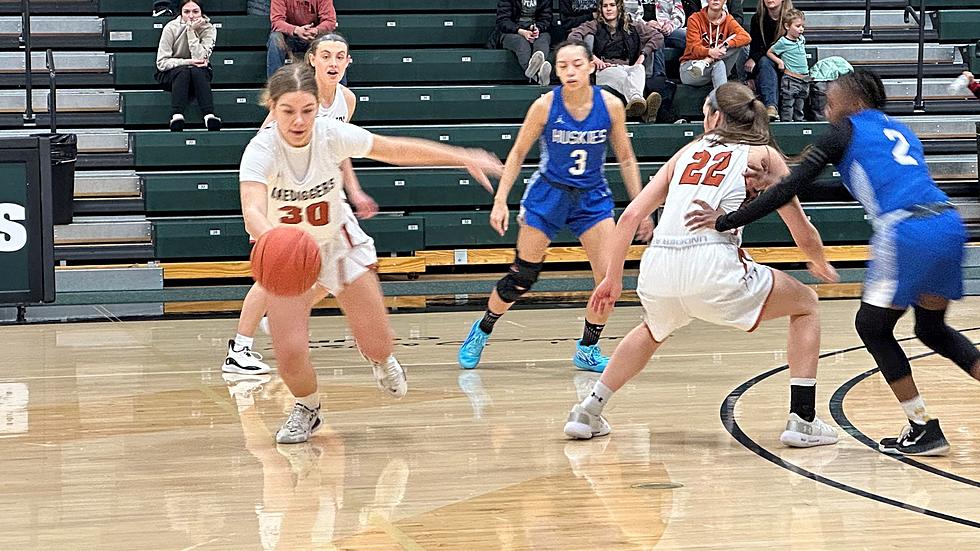 Orediggers announce first recruiting class under Coach Jeff Graham
Photo: Tommy O/Townsquare Media
The first recruiting class under Head Coach Jeff Graham has been announced and Digger Nation has plenty to be excited about.  The following is from a press release from Montana Tech Associate Athletic Director Nick Bowsher:
BUTTE, Montana – Montana Tech head women's basketball coach Jeff Graham announced his first recruiting class today. The Orediggers have six commits starting school in the fall with checking almost every box on the recruit checklist. In addition to the incoming six, the Orediggers return 10 student-athletes including starters Soda Rice and Aubrie Rademacher.
Coach Graham had to get his feet under him quickly last year after arriving in Butte in early August missing the opportunity to recruit. With one season under his belt, coach Graham is ready to show his knowledge of young talent and ability to land solid prospects.
The Montana Tech women's basketball staff was ecstatic when they landed their first recruit in Chloe Santeford. Santeford, a four-year varsity starter originally from Haiti, graduated Stanwood High School in Washington.
Coach Graham landed a big-time student-athlete and kept one of the top recruits in the state close to home in Butte Central's Brooke Badovinac. Keeping the best local talent in Butte is a one of the goals in Coach Graham's recruiting plan. Along with Badovinac, two more Montana products in Havre's Avery Carlson and Madison Chappuis from Bigfork join the team.
Tech women's basketball also added size to their 2023 recruiting class with the signing of Brooklynn Hankwitz transferring from Linn-Benton Community College. Rounding out the class is another upperclassman with size and skill under the basket. Former all-conference and all-region selection Tech volleyball player Taylor Henley joins the team with one season of eligibility.
Chloe Santeford – 5-5 Guard – Port-au-Prince, Haiti  Four-year varsity starter and four-year defensive player of the year for the Stanwood HS Girls' Basketball team. She earned second team All-Wesco honors twice while guiding her teams to a fourth-place finish in 3A, the highest finish for Stanwood High School Girls' basketball team ever.
At 5-5, Chloe is a defensive ace on the perimeter keeping top scorers well below their average game after game regardless of their size. While her unselfishness as a point guard is second to none.
Chloe has a 3.77 cumulative GPA and will be studying business at Montana Tech. Chloe is the youngest of the Santeford's six children was born in Port-au-Prince.
Coach Graham: "Chloe brings a lot to our program at both ends of the floor. She's a shutdown defender and has the ability to create shots for our shooters. Chloe will make an immediate impact on our program. She was our first signee of the 2023 class and we couldn't be more excited to have her. She came very highly recommended from former Tech standout Zeke Bambolo. After watching one minute of film on her, Coach Thatcher was sold."
Brooke Badovinac – 5-11 Guard – Butte, Mont.  Played prep at Butte Central High School under former Butte Central and Montana Tech legend Meg Murphy and Butte Central and MSUB standout Quinn (Peoples) Carter. During her illustrious career she earned 11 varsity letters at Butte Central while being named Academic All-State 11 times. Brooke earned All-State honors in both basketball and softball while garnering all-conference in volleyball. She has been selected to play in nine all-star games, including the Montana-Wyoming All-Star Basketball Series.
Brooke is Butte's all-time season leading scorer for boys and girls with 671 points (2022), is tied for the all-time single game female scorer at Butte Central with 41 points and holds the Butte Central single game scoring record against Class A opponents with 38. A team captain for the Maroons, Brooke led the state in scoring in 2021-2022 by averaging 23.6 points per game.
Both of Brooke's parents, Brett and Amanda (Evans) Badovinac, have deep family ties in Butte and Montana Tech. She plans to major in Exercise and Health Science.
Coach Graham: "Keeping this Butte Central standout in town was the number one priority for me when I was lucky enough to be offered the job at Montana Tech. We couldn't be more excited she has chosen to continue her career in Butte. She fits our program perfectly because she has the ability to score from anywhere on the floor."
"Brooke has been very well-coached throughout her career at Butte Central in three sports. She has been an integral part in the success Butte Central has seen during the last four year. We feel very fortunate to bring her on board and are looking forward to her having a great career as a Digger."
Brooklynn Hankwitz – 6-0 Forward – Astoria, Ore.  The 6-0 post finished her junior college career at Linn-Benton Community College in Albany, Oregon. The Roadrunners finished the 2022-23 season with a record of 21-7 with Hankwitz earning first team all-region honors. She averaged 14.3 points a game and 6.4 rebounds.
Hankwitz had a stellar high school career at Astoria High School in Astoria, Oregon. She earned first team all-league as well as player of the year honors. Brooklynn also excelled in the classroom where she was named a student scholar-athlete.
Brooklynn is the daughter of Nathan Hankwitz and Lisa Hankwitz. Brooklynn is majoring in Business at Montana Tech.
Coach Graham: "We're very excited for Brooklynn to be a Digger. Brooklynn had a great visit to Montana Tech and really enjoyed Butte. Coach Thatcher and I were very impressed with her not only her ability, but her personality and character. She comes from a successful Linn-Benton program and we're looking forward to her growth under Coach Thatcher here at Tech."
"We need to add a post and Brooklynn fits that perfectly. She also fits perfectly into our team's amazing culture. Brooklynn is a great person who is very coachable and has a bright future here at Montana Tech.".
Taylor Henley – 6-1 Forward – Kalispell, Mont.  First team all-conference volleyball player for Montana Tech and become their first dual sport athlete. Henley was an all-conference basketball player for Flathead and averaged 13.2 points and 8.5 rebounds a game her senior year. Henley's size and athletic ability will be a very welcome addition to the Diggers roster.
The 6-1 middle blocker produced a tremendous career for the Digger volleyball team. She was selected first team all-conference her senior season while leading the league and NAIA in blocks for much of the year. She also earned all-region honors while helping her team to a Frontier Conference Championship.
Taylor will graduate in the spring with a degree in Elementary Education.
Coach Graham: "Taylor is an athlete who lives in the gym and the weight room. We were very excited when she began thinking about joining our team and we were elated when she made it official. She is a proven winner and has been a team leader for Coach Brian Solomon's extremely successful volleyball program. We are very excited to have her join our already-talented group. Her toughness is going to bleed over to her teammates and help us to win games."
Avery Carlson – 5-7 Guard – Havre, Mont.  The 5-7 guard played prep at Havre HS and guided the Blue Ponies to three straight Class A State Basketball Championships. Avery is a two-time All-State and first team all-conference selection in both basketball and volleyball. She was a key component on Havre's State runner-up volleyball team this year. Avery is also an All-State and first team all-conference softball player. A captain on court and on the field, Avery is also a leader in the classroom.
Avery is the daughter of Andy and Kristy Carlson. Avery plans on studying Pre-Medicine and Chemistry.
Coach Graham: "Avery is a competitor. And Avery is a winner. She comes from three winning programs at Havre High and we're excited for her to bring that winning culture to our program," commented Head Coach Jeff Graham. "We're working to build a culture of success here at Montana Tech and she's going to help us with that process. She's a tremendous on-ball defender and floor general. She has been extremely well coached by Coach Kraske and his staff throughout her wonderful career."
"Tech's educational offerings fit Avery perfectly as she is very driven in the classroom. She is going to fit in great here in Butte because she is a hard-nosed competitor. We are thrilled to add her competitiveness and toughness to our program."
Madison Chappuis – 5-10 Forward – Bigfork, Mont.  Madison Chappuis played prep at Bigfork High School, where she was a standout in both basketball and track and field. She will continue her athletic career with the Orediggers competing in both of those sports. She will join Taylor Henley as Montana Tech's second dual athlete.
On the basketball court, Madison was a four-year varsity player for the Valkyrie and a three-year starter. She was a two-year all-conference player. She helped lead Bigfork to a 3rd place finish at State in 2022 and its first ever State Championship in 2023.
In track and field, Chappuis has qualified for the State Meet in both the Javelin and Shot Put since her sophomore year. Under the tutelage of the track gurus Wayne and Sue Loeffler, Madison has continued to improve throughout her career. Madison finished 3rd in the Javelin and 4th place in the Shot Put at the 2023 State B Track Meet.
Coach Graham: "Adding Madison to our roster will provide length and athleticism to our roster. She is a versatile defender and has a very high basketball ceiling. Coach Gunlock raves about her work ethic and character, and rightfully so."
"We are excited about adding Madison to our budding women's throws group. She just had a great State Meet with double PRs in the javelin and shot put. We are also very excited about adding track's first dual sport athlete. We are excited to see how she handles both sports and about possibility of her opening the door to future athletes."
21 Songs You Can Sing While Performing CPR
When performing CPR, rather than trying to count each compression, it is suggested that you quietly sing a song that has the proper rate of beats. The Bee Gee's "Stayin' Alive" is aptly suggested as a choice. "Another One Bites the Dirt", by Queen, also fits the bill but probably isn't appropriate. The following 21 songs have the proper 100/120 bpm to keep in time for chest compressions.