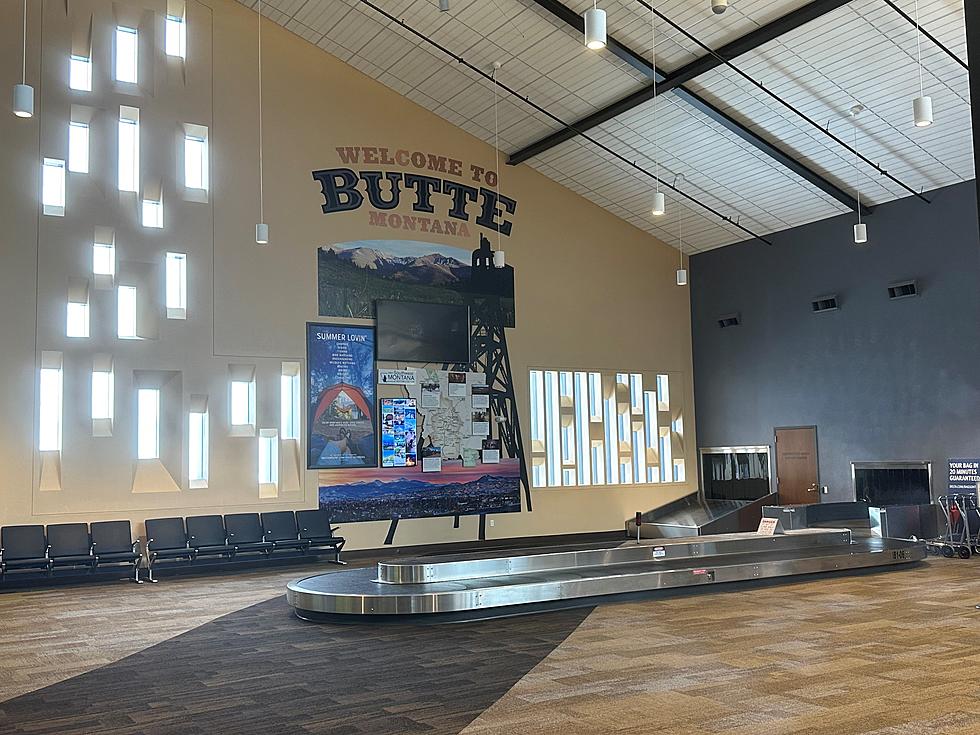 Why you should fly out of Bert Mooney Airport on your next trip
"Welcome to Butte" greets travellers above the luggage carousel at Bert Mooney Airport in Butte. Photo: Tommy O/Townsquare Media
Despite the several inches of fresh snow on the ground, the spring and summer travel season is upon us.  Okay, maybe not today, but warmer temperatures are coming and with it the urge to get out and travel.  Let's talk about air travel and the accommodations you're going to find at our Bert Mooney Airport here in Butte and why you will probably save money if you decide to fly local.
The biggest arguments you're going to get are about the lower fares at Bozeman's Gallatin Field or at the Missoula International Airport.  Well, that's not always the case.  When you book ahead, fares from Bert Mooney are usually in line with bigger airports.  But you should look at the big picture.  You're going to have to drive there, and gas is over $3.20 per gallon.  Bigger airports also like to charge a hefty daily fee for long-term parking.  Bert Mooney is easy to access if you're going to be dropped off and they also offer free parking.   When you use Bert Mooney, you will not have to stay in a hotel the night before when catching an early flight.  Plus, when you get there, it is a rarity to see a long line at TSA screening.  At larger Montana airports that is almost a given.  Plus, the newly renovated 40,000+ square-foot terminal has two gates with plenty of room, so you won't have to fight for a place to sit once you're finally checked in.  And once inside, you will find plenty of seating and available power sources for your mobile devices while you enjoy a beverage or a delicious snack from the Ore Cart restaurant.
Give the Bert Mooney Airport a shot on your next business trip or family vacation.  We think you'll be happy you did.
What You Need in Your Montana Winter Road Survival Kit
Winter on Montana's roads, highways and interstates is the most dangerous time of the year. Here is what you should always keep in your vehicle in case something goes wrong.
10 Funny Montana City Names You'll Love
Most people will laugh at Butte when it comes to funny named cities in Montana, but we think these are just as funny.
Top Dog Breeds For Families With Kids
Picking out a dog for your family isn't easy, but here are some great breeds that do well with kids.