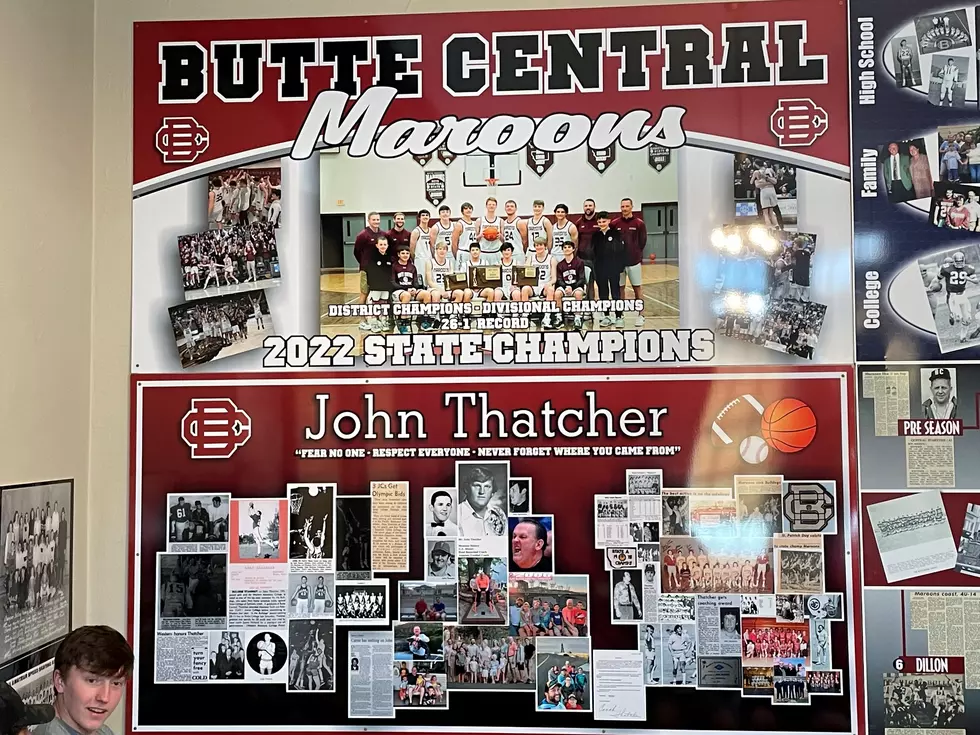 Butte's Knights of Columbus Honors Thatcher, 2022 Maroons
2 new banners up at Butte's KC Hall. credit: Tommy O, Townsquare Media
"There aren't many places in the country that have something this unique," Butte Central Head Basketball Coach Brodie Kelly told a crowded reception room at Butte's Knights of Columbus Hall on Thursday afternoon.  "The history of teams and athletes in this community goes on and on."
Kelly was on hand as Butte's Knights of Columbus, behind the unending efforts of Bernie Boyle, unveiled a pair of large, impressive photo murals honoring both Kelly's 26-1 State Champion Butte Central Boys Basketball team and Legendary Butte athlete and coach John Thatcher on the eve of the Opening Ceremonies of the Butte Sports Hall of Fame's 2022 inductions.  The murals join the incredible photo collection of Butte teams and athletes that go back to the earliest days of Mining City sports and occupy almost every nook and cranny of Butte's legendary Hall.  Kelly knows a bit about Butte Sports history as he is responsible for a great deal of it, having a direct hand in 3 of Butte Central's 6 Boys Basketball State Championships, one as a starting forward in 1992 and the others as the Head Coach in 2020 and 2022.  John Thatcher, among his impressive coaching resume, led the Butte Central Maroons to the second State Championship in 1978.  Players from all of those teams were on hand, including '78 guard Ray "Jay" Johnson, center Bill O'Leary and guard Steve Schulte as well as current BC point guard Dougie Peoples, whose buzzer-beater in Missoula gave the Maroons the trophy last March.
Both Kelly and Thatcher were quick to deflect credit from themselves and praise those around them, Thatcher saying he was only a "piece of a puzzle".  Kelly noted that the success of his program goes back even before the days of John Thatcher, pointing to a smaller mural in the corner of the building honoring a team from the 1920s and how the thread continues to this day.  "Dougie Peoples used to come into the MAC to watch Jonathan Richards.  Richards probably came to watch Matt Ritter," said Kelly who took that pair of recent BC stars and drew the line back to his 1992 team and further back.  Thatcher said his road began when he was cut from the team and offered a spot on the JV squad by Otto Simon, a late Maroon coaching legend.  From there, after his title run at BC in 1978, Thatcher had successful teams at the collegiate level alongside Kelvin Sampson at Montana Tech in the early 1980s and another State Championship at the high school level, this time in Las Vegas.
Both Thatcher and Kelly's 1992 basketball team will be honored during the Butte Sports Hall of Fame festivities this Friday and Saturday at the Maroon Activities Center.
The Knights of Columbus welcomes all visitors and tourists to stop by and view their impressive and historic collection which covers nearly all available wall space on 2 stories.  Boyle, however, insists they have plenty of room to honor future teams and athletes.  "We'll open the third floor if we have to," he quipped.