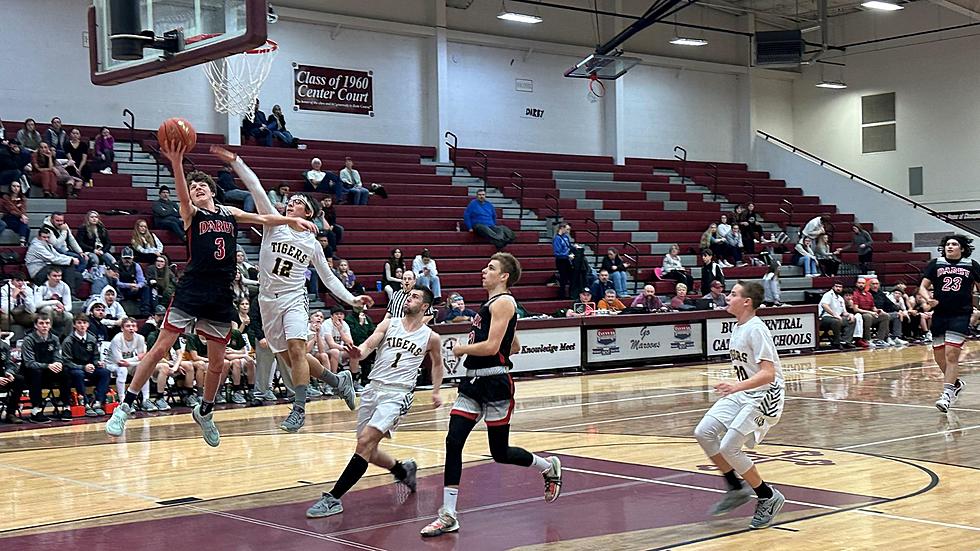 Loser-Out results from Western C Divisional
Darby takes on St. Regis in loser-out play Friday morning at the Western C Divisional at the Maroon Activities Center. Photo: Tommy O/Townsquare Media
Here are the results of the early loser-out contests from the Western C Divisional being played through tomorrow at the Maroon Activities Center.  Results from yesterday can be found here and here.  Semifinals will be this afternoon and evening with the championship and consolation rounds being played tomorrow.
BOYS: DRUMMOND 59, CHARLO 46
Highlighted by the long-distance shooting of Scott Parke and Colt Pasons, the Drummond Trojans closed the game on an 18-5 run turning a two-point affair into a 59-46 loser-out victory over the Charlo Vikings Friday morning at the Maroon Activities Center.  Trey Phillips led the way for Drummond with 25 points and 7 rebounds while  Parsons added 15.  Scott Parke had 9 for the Trojans who advance to tomorrow morning's consolation semifinal at 9:30am at the Montana Tech HPER complex where they will meet the loser of tonight's Manhattan Christian/Lone Peak semifinal
BOYS: DARBY 51, ST. REGIS 46
The Darby Tigers gave up the first 9 points of the game against the St. Regis Tigers but came roaring back in the second quarter to take the lead and were able to maintain a small but effective cushion throughout the second half and held on for a 51-46 loser-out victory Friday afternoon.  Darby was led by Cullen Duggan's 18 points and got 12 from 6'4 senior Hooper Reed and will move on to tomorrow morning's loser-out semifinal at 9:30 at the Maroon Activities Center.  The will face the loser of tonight's Harrison/West Yellowstone semifinal.
Celebrities Accused of Being Rude to Restaurant Staff
Below, check out six stars who were supposedly rude to restaurant staff.
Bike Trails that you can find and ride in Great Falls Montana
Biking in Great Falls Montana allows you to enjoy the beautiful scenery in and around the city. Check out these great biking destinations the next time you are looking to get some exercise.
Madden-isms: The 25 Best John Madden Quotes
His legend knew no bounds. John Madden was, & remains, the biggest icon of American football. Here are 25 of his best quotes ever, also known as "Madden-isms".
The Worst Tattoos on Professional Athletes
Some tattoos are more regrettable than others.
Top 50 Hard Rock + Metal Frontwomen of All Time
Check out Loudwire's picks for the greatest frontwomen in rock and metal.
See All the Teams the Denver Broncos Will Play During the 2023 Season
The 2023 Denver Broncos season schedule is almost here! The NFL has yet to set dates and kickoff times, but the opponents for next season have been released, and the Bronco's schedule is ripe for the picking. The Broncos finished the 2022 season with a 5-12 record. A softer 2023 schedule could mean a better outcome.