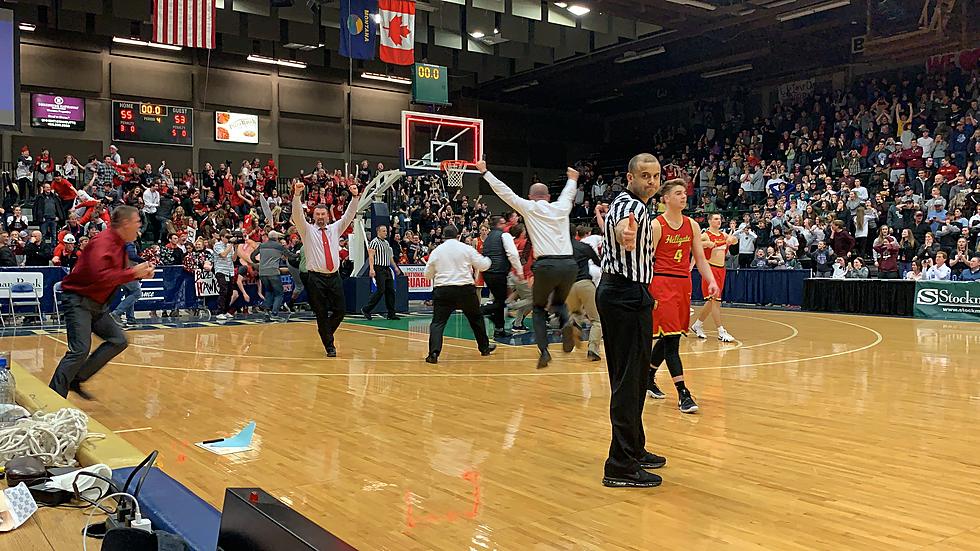 State AA Basketball ready to roll in Butte, America
The Bozeman Hawks celebrate moments after upsetting Missoula Hellgate in 2019, the last time State AA was in Butte. Photo: Tommy O/Townssquare Media
Tomorrow, 16 Class AA girls and boys basketball teams along with their coaches and fans will converge on the Butte Civic Center for the state tournament and we all know what this means.  It means that this weekend Butte is rolling out the red carpet for our friends and neighbors from across the Treasure State.  And there will be a lot of them.  Even if you're not attending or working the games, just driving down the street you can notice the increased number of cars, trucks and busses on the streets, many of these vehicles decorated with players' names and team colors.  You can almost hear the marching bands echo from the arena.  You can almost smell the popcorn.  You can already almost hear the roar of the crowd.  The last time State AA was in Butte?  It came down to a buzzer-beater when Bozeman upset Missoula Hellgate 55-53
But what goes into planning for a weekend like State AA or for that matter, any state basketball tournament that comes to town?  From the view of Butte Civic Center General Manager Bill Melvin, who is one of the absolute best in the business, it starts months ahead of time with recruiting the scorers' table staff, the statisticians, the security and the hosts and hostesses.  Lot attendants and traffic directors.  The concessions staff.  And of course, for such a large tournament there is going to be a ton of press coverage from radio stations, newspapers, internet and television outlets from across the state.  They're going to need a place to work, too, so additional tables, electricity and accompanying equipment has to be in place as well.
In short?  It takes a mountain of labor to pull off a state tournament and the hours that go into its execution would astound you.  But once the whistle blows and the first jump-ball goes into the air, it all seems worth it.
Check out the State AA Boys and Girls Basketball Tournament this weekend at the Butte Civic Center and see why Butte is the best host site in Montana.  If you can't make it but would still like to watch, check out this feed from the NFHS network.
Montana Laws
Montana laws on the books, that are... interesting.
"Interesting" Montana laws - Part Two
Another look at some interesting laws on the books here in Montana.
Butte locations seen in the 1923 trailer
The Butte locations spotted in the new 1923 trailer