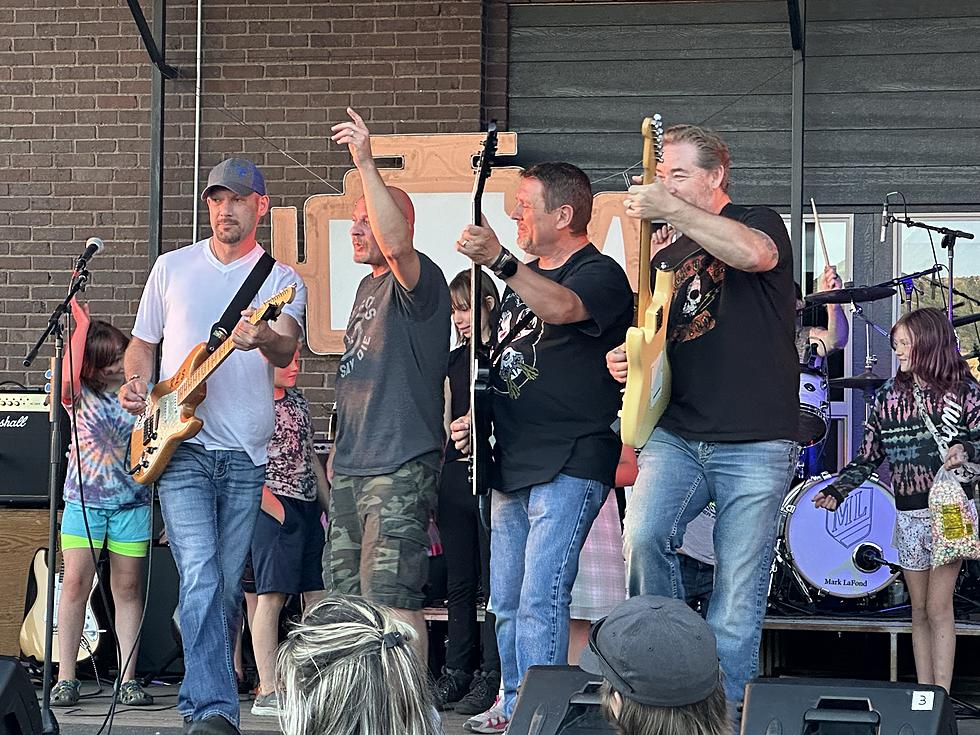 Butte Rock Fest a thundering success
King Friday closes their set at the Butte Rock Festival Saturday at the Butte Depot. Photo: Tommy O/Townsquare Media
Hundreds of live music fans representing every age category gathered Saturday night at the Butte Depot's outdoor concert area for an incredible evening of live rock that reunited a pair of legendary bands, showcased the entire history of another and got started with a pair of acts that are writing their own chapters in the long history of Butte rock bands.  The Butte Rock Festival brought together the classic lineups of Jeremy Scared and Crash Baxter, both bands well over 20 years removed from their days playing together while featuring a performance from King Friday that included every musician who has ever been a member of the band in their 25+ year history.
Jeremy Scared closed out the evening with a set of mostly original material that rocked as hard last night as it did in the mid 1990s.  The set started out with Ken Rich up front with Rob McClain on bass, Tim Sullivan on guitar and Paul Decker on drums and closed out with Mike Ott doing the vocal duties and commanding the enthusiastic crowd.  During the set, special reverence was given to late member Jamie Adams as well as the many Butte musicians who have passed away over the years.  The most touching moment of the evening was King Friday's John Stenson acoustic performance of Bad Company's "Shooting Star", in memory of his late son Ryan who tragically passed away last year, which did not leave a dry eye in the large crowd.  Stenson joined present King Friday bandmates, bassist Marco Kurilich and drummer Mark LaFond and past members, guitarist Kevin LaFond, vocalist/guitarist Mike Ott and drummer Paul Decker for a set that included an incredible version of Pink Floyd's "Another Brick in the Wall" that had the crowd dancing.
Stenson's tribute followed a thundering set from Crash Baxter whose lineup included Ron Anderson on guitar, Wally Jemmings on vocals, Scott Murphy on bass and Jimmy Rhodes on drums.  Baxter's set included such rockers as Rob Zombie's "Dragula" and Alanis Morisette's "You Oughta Know" and left fans questioning how it was possible that the last time these guys played together was in the early 2000s.  Jemmings fondly remembered the crowd and atmosphere of the Nite Owl where Crash Baxter was a staple.
The events of the day started out with a commanding solo performance by Shawn "Roxx' Hoskins of My Fist Your Face and the day's most eclectic setlitst by Check Engine Light, who covered everything from "It's Tricky" by Run DMC to "Forever Young" by Rod Stewart.
A special note of thank you to Mike and Tiffany Ott for organizing this huge event, Butte Auto and Zip Beverage for their sponsorship and to Bill and Dana Fisher and family of the Butte Depot who are some of the biggest supporters of live entertainment in Montana.  The Depot is back to work again today as they are hosting country star Morgan Evans tonight at the Original Mineyard with special guests the Ken Rich Band.
10 Declarations of Independence: Rock's Best First Solo Albums
From George Harrison to Ozzy Osbourne to Sting -- 10 artists, sequenced alphabetically, who declared war on their former bands with their very own declarations of independence.
Top 50 American Bands
The Best Movies of 2023 So Far
Through the first half of the year, here are the movies you have to see.
Top 30 American Classic Rock Bands of the '90s
Top 30 American Classic Rock Bands of the '70s
Top 25 American Classic Rock Bands of the '60s