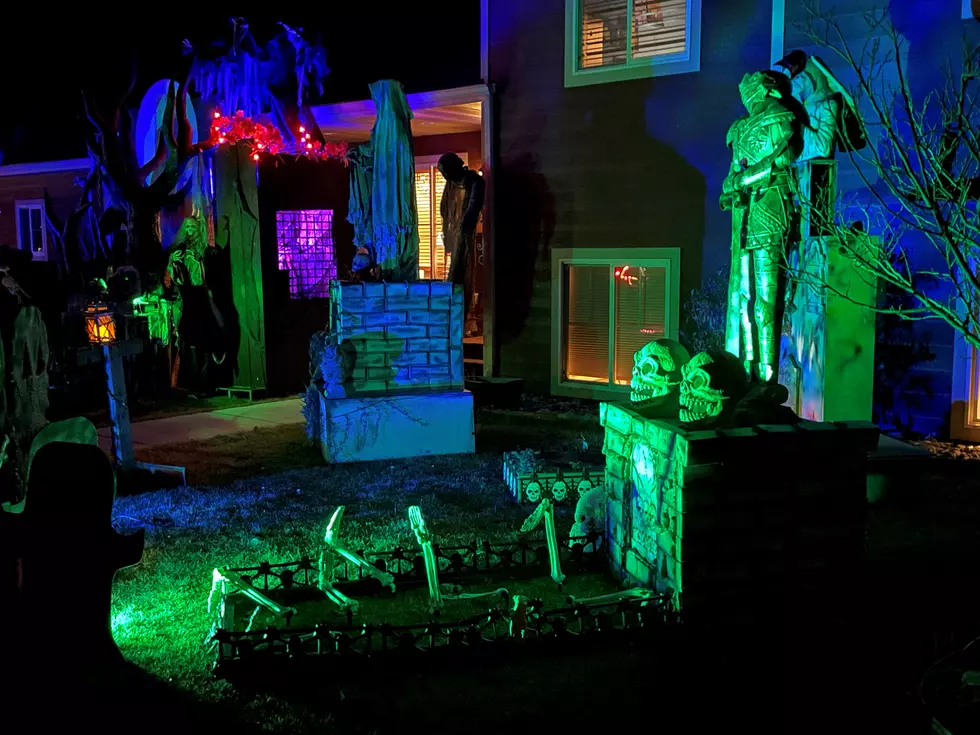 The Ott's Butte Halloween Display – Second to None
Photo: Tommy O/Townsquare Media
Okay, I know that sometimes art is open to interpretation and when it comes to holiday decor, beauty is sometimes in the eye of the beholder.  Can you truly say one display outshines another?  Maybe not.  In the true spirit of Halloween or any other holiday, participation is truly it's own reward.
That being said, you are not going to find a more impressive Halloween display in Butte this year than the one at the Ott household on East St. Ann Street.  You just aren't.  When taken into consideration the amount of time, materials, know-how and love, I just don't see this one being topped.
A passion for Halloween.
I am proud to say I know Mike and Tiffany Ott.  I had the pleasure of playing music with Mike for a number of years in the early 2000s in a band where he was the lead singer and guitarist.  And man, what a musician he is.  He doesn't just perform, he commands the stage.  He becomes the song.  He conveys the song's emotion and he can do it like nobody I have seen or played with since.  That is the Mike Ott that I got to know.  But it seemed every year around Halloween we would slow things down so that he could work on his Haunted House.  You see, Mike's a Halloween baby and he's been doing haunted houses since waaaaay before the band came into the picture.  At first, it seemed a bit strange to me that he would want to take time away from music to focus on an entirely different form of art, especially one that required such a time commitment. That is, until I saw what it is that Mike Ott really does.  His talent for set-building, animatronics, lighting, direction, construction and aura is rivaled only by his incredible musical ear.  I don't know where he shines brighter.  He is THAT talented.  What he put together in that haunted house was music for the eyes.  Good music.  That first haunted house of his that I went through gave me the chills for the rest of the evening and practically sent my kid into therapy.  Man....it was AWESOME.
A kinder, gentler kind of terror... 
Mike and Tiffany have toned the scares down from the old days, but what you will find on display tonight is none less impressive.  The Haunted House 2022 is up and scares are being handed out like candy.  Take the short drive and check it out.  Turn east on St. Ann off of Continental and keep driving a few blocks until you see it.  But please, drive slowly and carefully tonight as traffic will be heavy and the young ones will be out.  And thank you to the Ott family for your incredible display.
If you can't make it, here are a few pics we were able to take.
The Ott's impressive Halloween display
To say that Mike and Tiffany Ott go all-in for Halloween would be an understatement. Their display is the best in town and here's a look at what we saw.